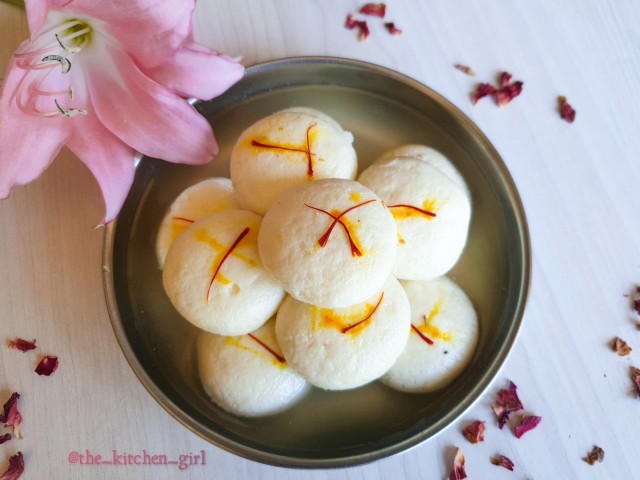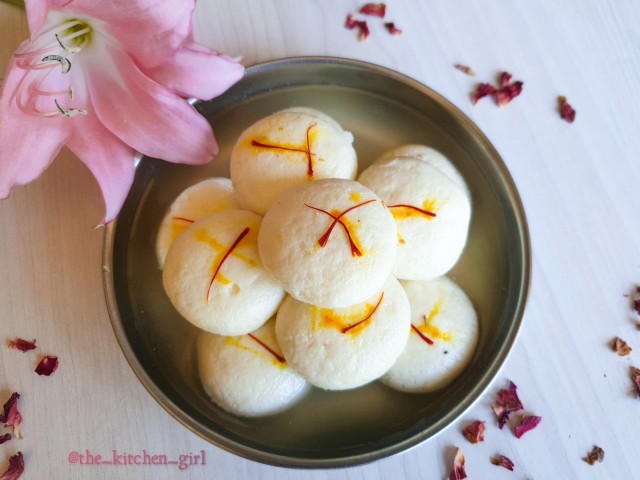 CREDITS
@the_kitchen_girl
INGREDIENTS
2 lt fresh full fat milk2 tablespoon lemon juice2 cups sugar5 cups water5 whole Elachi (cardomom) Saffron strands to decorate
METHOD
Heat milk in a pot and bring it to just about boiling point. Add the lemon juice and mix. The milk will curdle.Put a muslin cloth in a colander and drain the curdled milk. You will be left with milk solids. While the milk solids are still in the colander on the cloth, rinse with fresh water to get rid of the lemon smell.Place the muslin cloth with milk solids to hang or place a heavy weight and allow the excess water to drain. About 30min.
Once drained. Knead the milk solids to a soft smooth dough like consistency. Takes about 5 minutues. Roll into 16 smooth balls.
Place the sugar and water with the Elachi (cardomom) in a heavy wide pot. Bring to the boil. Allow to boil for 7 minutues. In the boiling water, add the balls. Cook on high heat covered for 5 minutues. The balls will triple in size.Now boil for another 7 minutues uncovered. Do not mix as the balls will break.Allow the mixture to come to room temperature. Then transfer balls to a serving bowl. Sieve the syrup onto the balls to remove the Elachi (cardomom), top with saffron strands and chill in fridge.Enjoy.
INFO & TIPS
This recipe need practice to perfect when it comes to consistency. It all depends on the texture of the milk solids once drained, the moisture too
If its cooked longer it will get rubbery too.
I freeze left over syrup for use next time. It can be used to make lemonade too.
Comments ordered by Newest
---