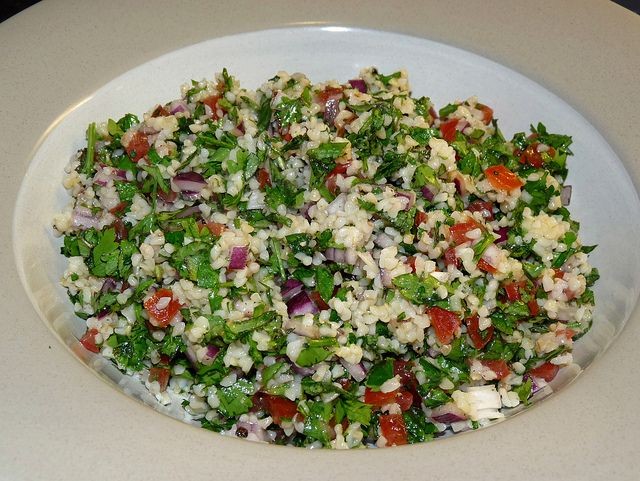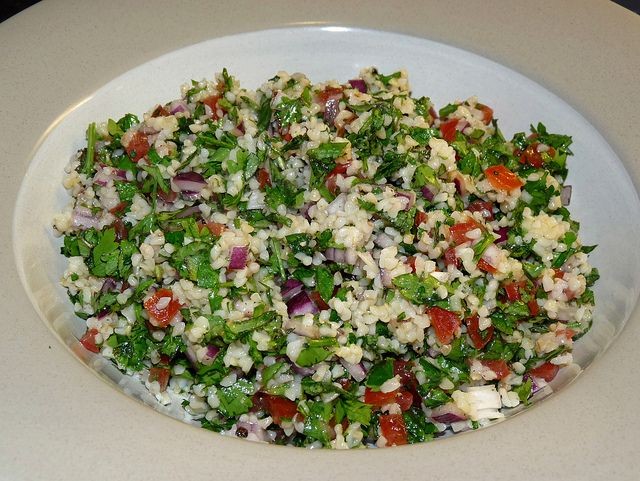 Tabouleh-salad
By Bint
- KITCHEN FUNDI
INGREDIENTS
85 grams (3 oz., ½ cup) burghul /cous cous
2 bunches flat-leaf parsley
(about 30 gr. before washing, or 1 ½ cup chopped)
1 bunch fresh mint (about 10 gr. before washing, or
½ cup chopped)
3 green onions or 1 small onion
1 large tomato
90 milliliters (3 oz., 6 tablespoon.) lemon juice
60 milliliters (2 ½ oz., 4 tablespoon.) olive oil
salt
1 head romaine lettuce (optional)

METHOD
Leave the burghul in water for about 2 hours, then
wash and squeeze out. Wash and chop the parsley,
mint and green onions very fine. Dice the tomato.
Combine all ingredients including burghul.

Add salt to taste, lemon juice, olive oil and mix well.
Serve in a bowl lined with lettuce leaves. This salad
can be eaten with a fork, but the traditional way is to
scoop up a bite of the mixture in a lettuce leaf and
pop it into the mouth.

Comments ordered by Newest
---