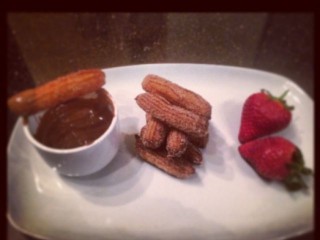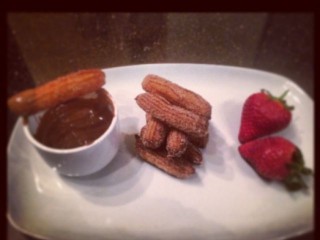 Churro's (spanish Donuts)
By Nazrana
- STUDENT CHEF
INGREDIENTS

1 cup water· ½ cup butter (I used salted butter, if you use unsalted add a pinch of salt to the batter)· 2 tablespoon sugar· 1 Cup flour· 3 eggs· Oil for frying Cinnamon sugar:· 2 cups castor sugar· 2 tablespoon ground cinnamon
METHOD
Mix together the cinnamon and sugar and set aside.In a saucepan, combine the water, butter, sugar and salt.
Allow the butter to melt and stir everything together.Sift in the flour and stir until a ball starts to form.Transfer the mixture to your stand-alone mixer or to a separate bowl if you are using a hand-held blender.
Allow the mixture to cool for 5 minutes.Place enough oil into a pot to fry the churros and allow to heat.Start beating the dough and add the eggs one at a time. Beat well after each addition.
The mixture will become slightly sticky and more like a batter, but still thick and glossy.Place the batter into a piping bag fitted with a star nozzle.When the oil is hot, pipe long shapes into the oil and allow to fry until golden brown, flip them over and fry on the other side. (as I drop them into the oil I snip the dough with a ascissor to get equal size peices)
Coat the churros in the cinnamon sugar.Serve warm with chocolate sauce.
INFO / TIPS / CREDITS
Comments ordered by Newest
---