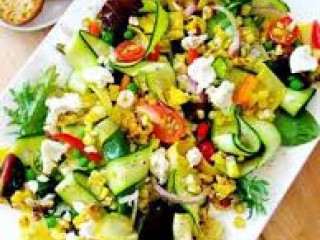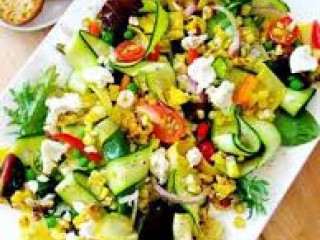 INGREDIENTS
Lettuce
Cucumber
Tomatoes
Feta cheese
Herbs
Olives
Carrots
Avocado
See method for dressing

METHOD
Go to the grocery store and buy all the ingredients above. p.s you can just get the mixed greens packet. Take out a pretty salad bowl from your cupboard or wherever you keep your bowls it doesn't matter. Throw in all the ingredients and decorate to your liking. Go to the store and buy salad dressing, you can choose from Italian, Greek or French. Remove the plastic seal (becareful if you using a knife!) Shake the bottle and open it and thereafter sprinkle just enough onto the salad. Put the salad on the table and serve it to the family. They will love it :)!!

INFO / TIPS / CREDITS
You can also serve it to your friends or any other people.

Comments ordered by Newest
---