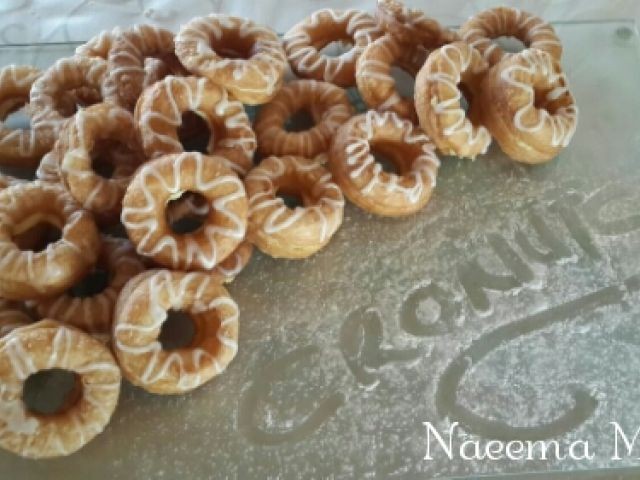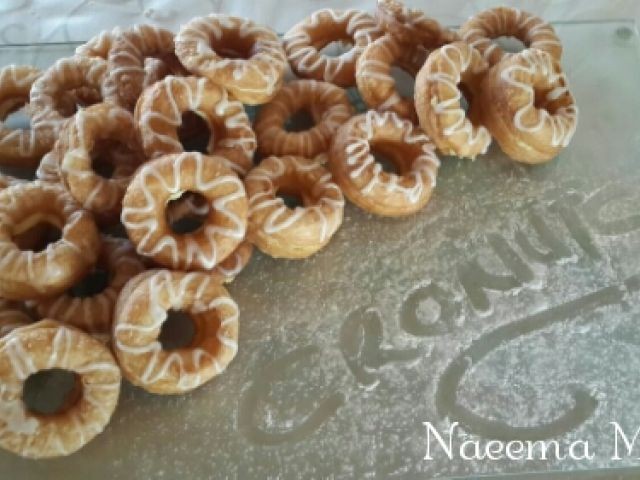 RECIPE
Recipe credit : radio islam recipe
Picture credit : @mia_naeema

Croissant Dough

4 cups flour sifted
1 tablespoon sugar
1 packet /10g instant yeast
1egg, beaten
1 cup milk
1 cup water
250g butter divided into 2 parts – grated and refridgerated

Method
mix salt and flour then add yeast and sugar. mix
heat milk and water to lukewarm or slightly warmer as it cools more when you add the egg.
add egg and mix well
make a soft dough with the liquid
divide into 3 parts and roll out 3 roties.
put ½ the grated butter on 1 roti and sprinkle maziena.
cover with the 2nd roti and put 2nd half of butter on top.
take care not to put grated butter again close to the edge of the rotis.
sprinkle maziena over the butter again and cover with the 3rd roti.
roll out into 1 big roti, using maziena instead of flour.
refridgerate for 1 hour to rise.
then roll out again and return to fridge. 
repaet this process 2 more times.
if using the next day refridgerate.
roll out and cut with doughnut cutter.
fry on meduim heat till gollden brown.
turn over after a few minutes. 
check if it's done. remove from oil
cool then slit in half horizontally and fill with vanilla cream filling.
replace tops.
make a thick water glaze and spread over.

Vanilla Cream Filling
1 ½ cups full cream milk
1 teaspoon vanilla essence or scraped seeds and shell of a vanilla pod
3 extra large egg yolks
½ cups sugar
2 tablespoon maziena
2 tablespoon cake flour
½ cup fresh cream whipped.

Method
combine milk, vanilla seeds and pod in a saucepan.
if using vanilla essence do not add now.
bring to boil.
Remove from heat
beat in egg yolks, sugar, maziena and flour together until light and creamy.
remove vanilla pod/if using 
beat milk into egg mixture.
do not add egg mixture to milk as it may curdle.
return mixture to saucepan and cook over meduim heat till it begins to boil and thicken.
remove from heat.
now add the vanilla essence and mix well.
cover with plastic wrap/glad wrap, allowing it to touch the filling completely, so the skin doesn't form.
allow to cool.
beat fresh cream and fold in.
cover and place in the fridge till needed.


glaze
¾ cup icing sugar
water
make a thick paste with icing sugr and very little water, say about 1 tablespoon water…
drizzle glaze over cronuts...




Comments ordered by Newest
---