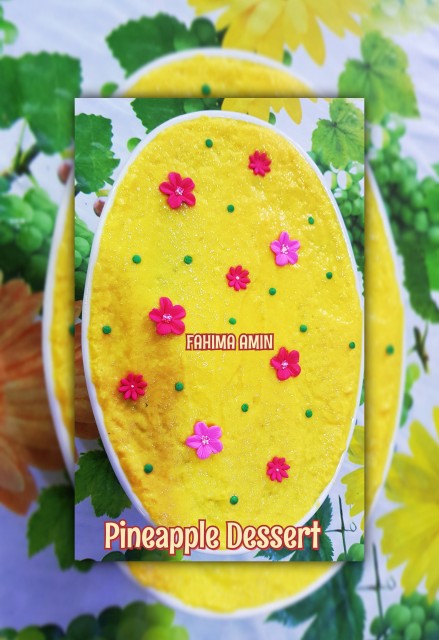 Fahimah Amin
Sous Chef
Still learning,Begginner Chef👩‍🍳
---

South Africa
Joined 4 years ago
---
@fahimah_amin_
INGREDIENTS
🔸️FOR FIRST LAYER:-
🍍2 Packet Marie Biscuits
🍍About 60 to 70 gm melted butter

🔸️FOR SECOND LAYER:-
🍍1 tin of pineapple slices
🍍Cool custard ( It must be thick)
🍍For making custard ( 500 ml milk, 2 tablespoon custard powder, sugar as sweetened, ¼ teaspoon pineapple assence)

🔸️FOR THIRD LAYER:-
🍍Falooda jelly or Instant ready jelly packet (any of one)
🍍For making falooda ( 3 cups of water, 1 & ½ teaspoon falooda powder,
sugar as per taste, ¼ teaspoon pineapple assence, Green food colour or the colour of your choice)

🔸️FOR THE TOP LAYER:-
🍍Whipped cream


METHOD
🍍Crushed Marie biscuits nicely & mix it with melted butter.
🍍Take a dessert bowl & set the first base with this marie mixture.
🍍On this marie base put the pineapple pieces which cut out from d tin.
🍍Now make d thick custard & allow to cool.
🔹️For making custard:-
🔹️Mix d sugar & custard powder in milk, stir well.
🔹️Boil it nicely & than add assence & allow it to cool completely.
🍍Pour this cool custard over the pineapple pieces & allow it to set for an hour.
🍍Than make the jelly.
🔹️For making jelly:-
🔹️Take water & add in falooda powder, sugar, & green food colour.
🔹️Mix it & boil nicely & coo it slightly not too much.
🍍Than add this jelly layer over custard.
🍍After all, Refrigerate for 2-3 hours until set.
🍍For the TOP base...take whipped cream & beat until fluffy than piped d cream with piping bag or decorate as desired.


INFO & TIPS
🔴YOU CAN USE ANY FLAVOUR OF JELLY PACKET INSTEAD OF MAKING FALOODA JELLY.
POSTED ON
20 Feb 2018
WOULD YOU LIKE TO ?

Fahimah Amin
Sous Chef
Still learning,Begginner Chef👩‍🍳
---

South Africa
Joined 4 years ago
---
@fahimah_amin_
COMMENTS
You May Also Like
Suggest Recipes