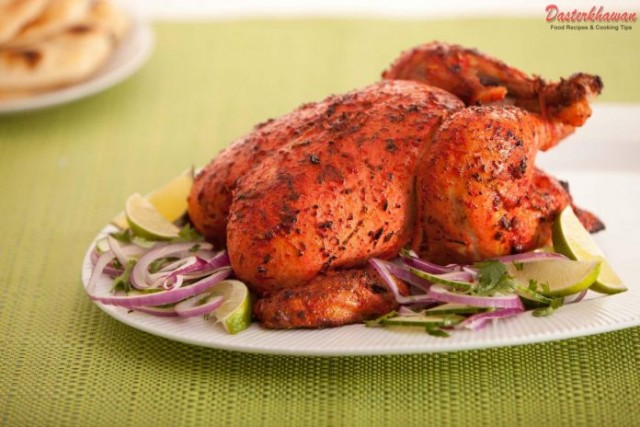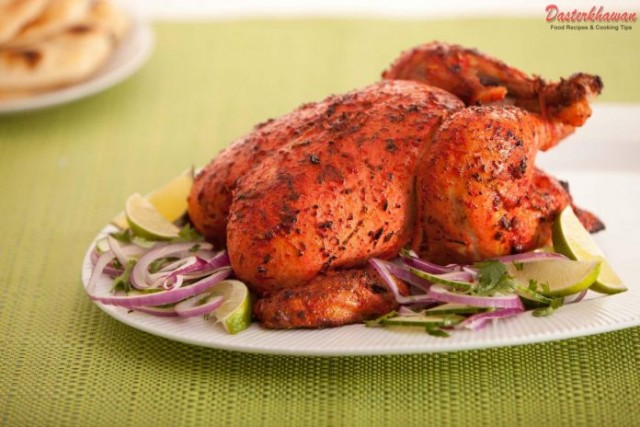 RECIPE
Murgh Musallam (Masala roasted chicken) is a Mughlai dish originating from the Pakistan and India. It consists of a chicken marinated in a ginger-garlic paste.

This recipe will become your go-to, impress-your-friends-and-relatives dish. Mughlai style, rich and regal Murg Musallam may look like a lot of work but the end result is SO worth it. A Masala roasted chicken with vibrant color and flavor, it is beautiful to serve to a gathering of people.

Ingredients
1 whole chicken
20 gms green chillies
1 tablespoon ginger-garlic paste
2 tablespoon grated raw papaya
1 tablespoon lemon juice
salt to taste
For Marination:

1 cup curds
½ teaspoon red chilli powder
1 teaspoon kashmiri chilli powder
2 tablespoon salad oil
Method
Prepare the chicken (pluck, singe and skin). Cut slits lengthwise over the breast portion
and breadthwise over the leg portion carefully.
Apply salt and sprinkle lime juice all over and keep aside. Grind green chillies, ginger and
garlic to a paste.
Beat curds thoroughly.
Add ground spices.
Grind papaya and add. Beat well again.
Add the chilli powder and beat well. Add salad oil and colour and strain through fine sieve.
Rub the batter all over the body of the chicken and well inside the slits. Let it soak in the
batter for at least 12 hours.
Thread chicken on to a thin iron rod and place it well inside the tandoor or oven.
Remove when well done. Serve hot with onion rings and pieces of lime.
Comments ordered by Newest
---