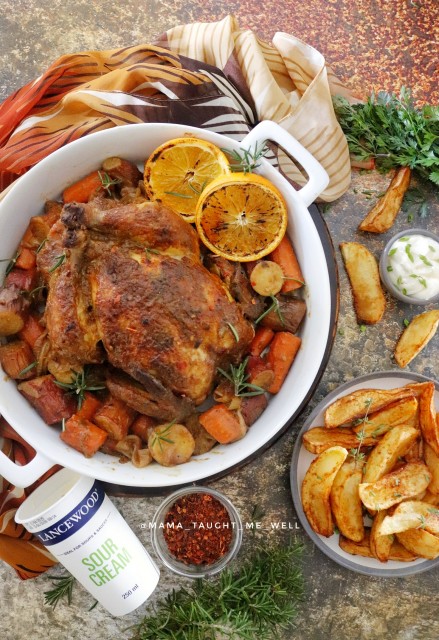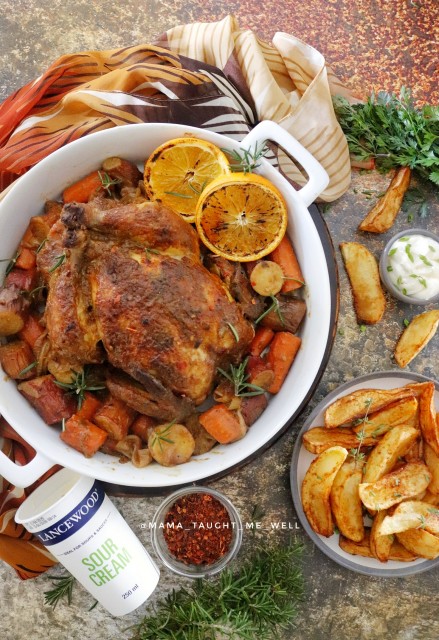 23
favs
3
coms
2K
views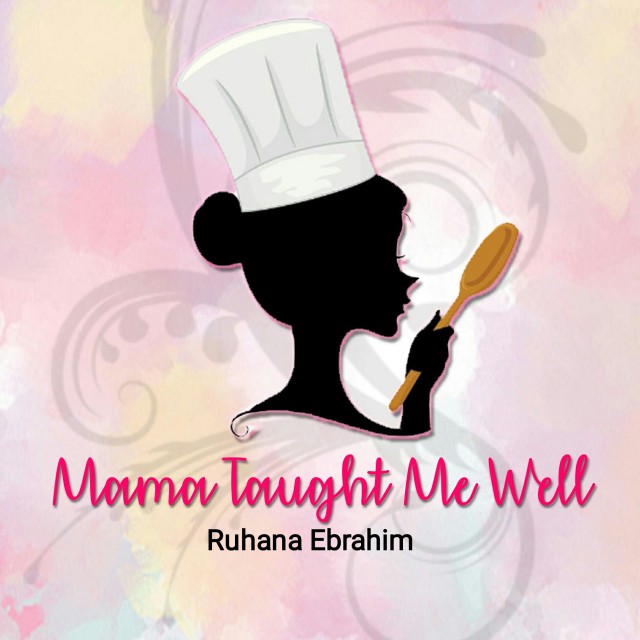 Ruhana Ebrahim
GRAND MASTER
1336
5.7M
2.6K

Interior Decorator.
Foodie!
Food styling.
Fusion Cooking.
Recreational baker.
Food Author of "Oh My Cupcakes!"
Mum and wife.
(Another 2 books...
CREDITS
Rec cred: @mama_taught_me_well
Pic cred: Ruhana Ebrahim


INGREDIENTS
•1kg or 1 large whole chicken skin on/ OR butterflied spatchcock/ OR chicken pieces
Marinade-•1 tablespoon ground garlic paste•1 teaspoon ground ginger paste•1 teaspoon ground green chillies•¼ teaspoon salt•1 tablespoon orange pepper spice (available from Gorima's spices or other Indian grocers depending on your area)•½ teaspoon white pepper•½ teaspoon lemon pepper•1 teaspoon Kashmiri chilli powder•1 ½ teaspoon dhana jeeroo (coriander cumin) powder•2 tablespoon oil•2 tablespoon Nando's medium peri-peri sauce
Stuffing-•½ small onion, 1 orange thinly sliced, 2 cloves garlic.
Veg-4 medium sized sweet potatoes (skin on, washed)4 medium carrots (peeled, washed)1 onion (sliced into quarters)4 cloves garlic (sliced)1 teaspoon Golden Spices chicken stock powder¼ teaspoon salt¼ teaspoon pepper½ cup fresh orange juice2 cups water2 sprigs fresh thyme
Basting sauce-2 tablespoon butter2 tablespoon Nando's medium peri-peri sauce1 tablespoon fresh orange juice½ teaspoon honey1 fresh sprig rosemary (optional- to brush and place on chicken)
Garnish-2-3 tablespoon Orange pepper spiceGood pinch red chilli flakes
METHOD
1. Wash and pat dry chicken. 2. Place the garlic, onion and orange into the chicken's hollowed cavity.3. Tie some string around the drumsticks to hold it together as it roasts.4. Then tie some loosely around the back and breast, to hold wings in place too. (Steps 3 & 4 are optional).5. Mix marinade ingredients together and massage onto chicken.6. Place chicken in a above proof roasting dish.7. Toss veg with salt and pepper.8. Place the veg around chicken but not touching it. Place thyme onto veg.9. Mix the stock, juice and water. 10. Pour onto veg around chicken.11. Cover with casserole lid/ foil, and bake in a preheated oven at 180°C. 12. Cook for 45min, then flip chicken over.13. Cook for another 45min covered.14. By this time, the liquid should be reduced. 15. Whilst the chicken is cooking, heat the basting sauce in a saucepan on the stove.16. Cut the string around the breast of chicken. Use half the basting sauce to brush onto chicken. I used a sprig of rosemary to brush it on.17. Return to oven uncovered. Allow the sauce to sizzle and glaze and then turn the chicken over.18. Cut off string around drumsticks. Brush on remainder basting sauce and place sprig of rosemary om chicken. Again allow the sauce to sizzle and glaze.19. Test the doneness of chicken by skewering it in the joint. The chicken should be firm and white. Be careful of over cooking the breast. Skewer the veg to see that it is cooked through. Tender but retaining shape.20. When done, sprinkle over the Orange pepper spice and red chilli flakes.
INFO & TIPS
I served with Roti, but you could serve as is or even with crusty garlic bread.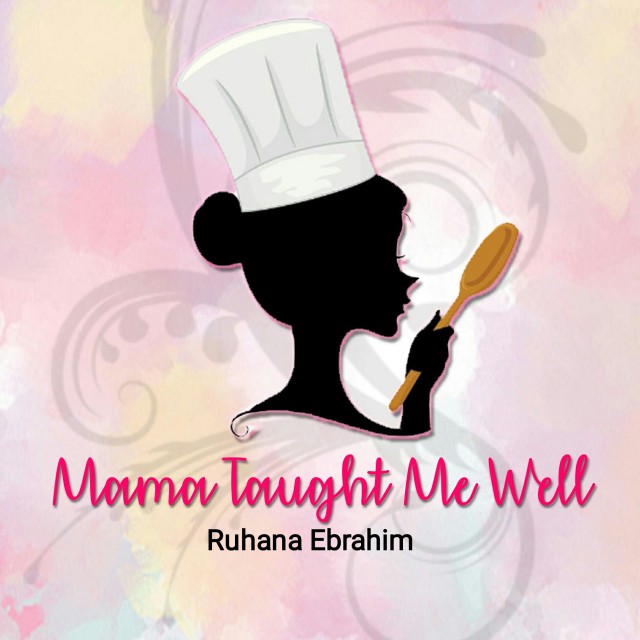 Ruhana Ebrahim
GRAND MASTER
1336
5.7M
2.6K

Interior Decorator.
Foodie!
Food styling.
Fusion Cooking.
Recreational baker.
Food Author of "Oh My Cupcakes!"
Mum and wife.
(Another 2 books...
Comments
Ordered By Newest
---
---
Suggest Recipes
You May Like
Orange Pepper Spice Whole Roast Chicken is part of the
Chicken
recipes category