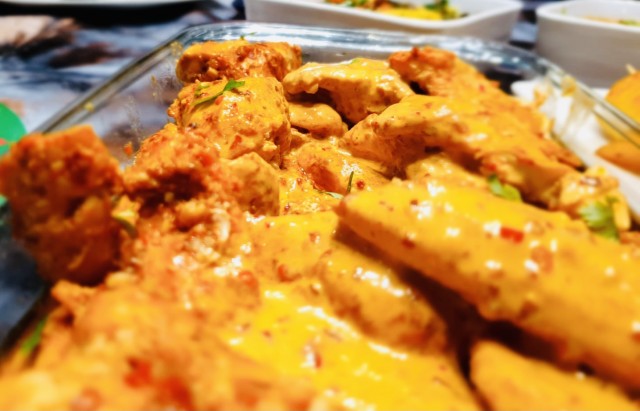 Feroza Joossub Asmall
Kitchen Hand

South Africa
Joined 5 years ago
---
@feroza_joossub_asmall
CREDITS
INGREDIENTS
6 pieces of chicken fillet cut into smaller pieces
Marinate in the following:
1 teaspoon salt (or salt to taste)1 teaspoon Portuguese spice1 teaspoon dhania (coriander) jeera½ teaspoon arad (Turmeric) (tumeric powder)2 teaspoon rough chilli powder1 teaspoon red fine chilli powder1 teaspoon ginger garlic¼ teaspoon red chilli paste2 tablespoon peri peri oil¼ cup Calistos peri peri sauce (I used medium)1 teaspoon crushed black pepper
METHOD
Marinate the chicken in the above and leave for a few hours.
Cook chicken in a little ghee (Clarified butter)/ butter - not too much as marinated chicken already has oil in it - cook till chicken is soft and water is finished.
SauceHeat peri peri oil in a pan, add the following:1 teaspoon garlic,1 teaspoon rough chillies, ¼ teaspoon red chilli paste (omit if you don't want it too hot or add more if you do)
Heat the above till blended well. Add ¼ cup of fresh cream, Calistos peri peri sauce & Nandos's medium peri peri sauce (I don't have exact measurements as I just poured and tasted however I put more Calistos (probably about half cup) than Nandos's (approximately quarter cup)).
When the chicken is ready, pour over the sauce, garnish with greens and serve.
POSTED ON
27 Jul 2021
WOULD YOU LIKE TO ?

Feroza Joossub Asmall
Kitchen Hand

South Africa
Joined 5 years ago
---
@feroza_joossub_asmall
COMMENTS
You May Also Like
Suggest Recipes