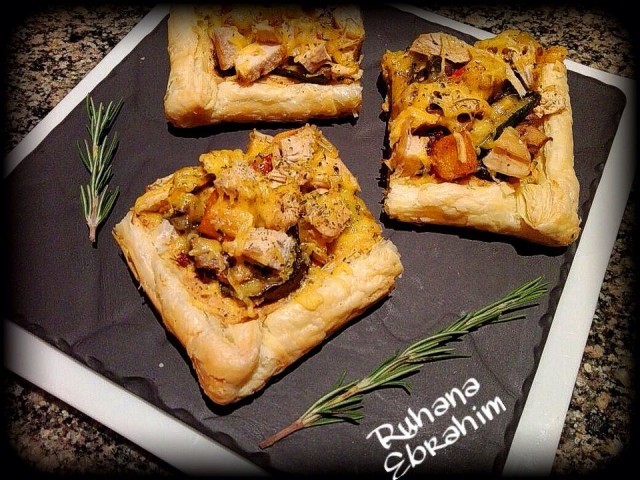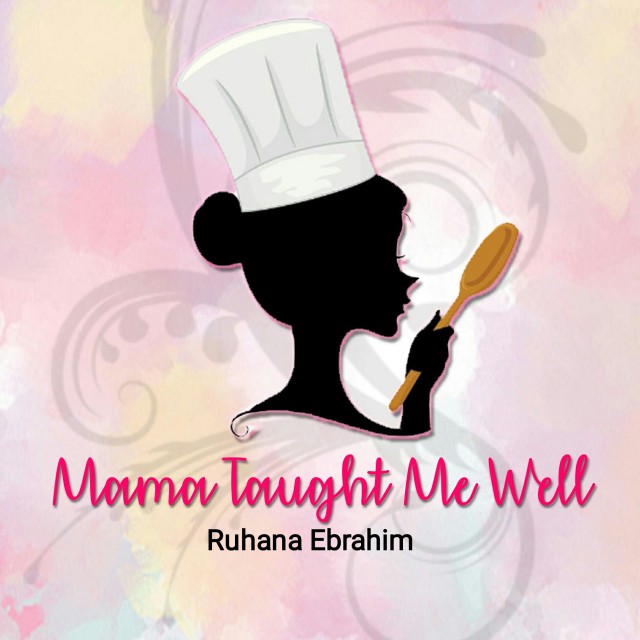 Ruhana Ebrahim
Grand Master
Interior Decorator.
Foodie!
Food styling.
Fusion Cooking.
Recreational baker.
Food Author of "Oh My Cupcakes!"
Mum and wife.
(Another 2 books on the way Insha Allah!)
---

South Africa
Joined 6 years ago
---
@mama_taught_me_well
INGREDIENTS
Lemon & Herb Chicken Roasted Veg Tart

Rec cred: ruhana ebrahim
Pic cred: @mama_taught_me_well

Ingredients:
Veggies-
4 baby marrows
1 small red onion
½ punnet white button mushrooms
½ red pepper
½ yellow pepper
½ green pepper
¼ bag Mc'Cains sweet potato and butternut cubes
1 tomato
1 brinjal
Fresh rosemary sprigs
Oil
1 teaspoon Salt
1 teaspoon chilli powder
1 teaspoon dhana Jeeru (Cumin) powder
1 tablespoon Robertson's veggie spice

Chicken-
2 chicken fillets
½ teaspoon salt
½ teaspoon lemon pepper
1 tablespoon lemon juice
2 tablespoon Jimmy's lemon & herb sauce
1 tablespoon mayonnaise

Also needed:
½ tub Woolworth's sundried tomato & basil cream cheese
½ tub Lancewood sour cream
1 tablespoon crushed garlic
1 tablespoon lemon juice
1 teaspoon ground green chilli
400g roll Today's puff pastry
1 beaten egg
Grated cheese of choice
Dried mixed herbs



METHOD
Cook chicken in above ingredients till done. Leave aside.

Grease a sheet pan/tray.
Open out pastry, flatten, fold ends 2cm in all round. Press down.
Poke with a fork all over the insides of folded edges.
Blind bake in preheated oven at 180degC for 20min.
Leave aside.

Slice marrows into halves and then quarters (lengthwise).
Slice tomato into circles.
Slice onion in rings.
Julienne peppers.
Thickly slice mushrooms.
Slice brinjal into thin rounds.
Rinse out sweet potato and butternut cubes and slice in halves.

Place veggies on a tray and season with spices and rosemary. Drizzle generously with oil. Toss together and bake in oven for 20min.

Mix sour cream, cream cheese, garlic, chillies and lemon juice. Spoon onto pastry. Place on cooked veggies, removing rosemary.
Cut chicken into big cubes and place on veggies. Drizzle over marinade.
Sprinkle over cheese.
Sprinkle over dried herbs.
Brush edges of tart. Place back in oven for 15min till pastry becomes crisp and golden.
Remove from oven. Cool for 2min, slice and serve hot.
POSTED ON
11 May 2017
WOULD YOU LIKE TO ?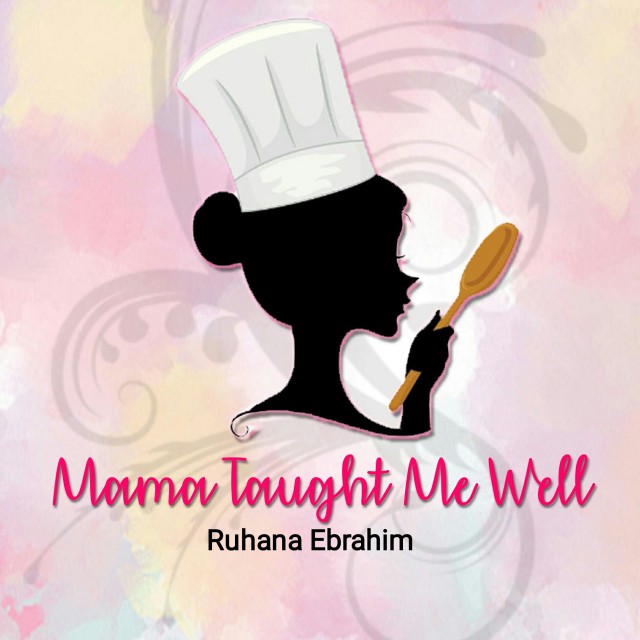 Ruhana Ebrahim
Grand Master
Interior Decorator.
Foodie!
Food styling.
Fusion Cooking.
Recreational baker.
Food Author of "Oh My Cupcakes!"
Mum and wife.
(Another 2 books on the way Insha Allah!)
---

South Africa
Joined 6 years ago
---
@mama_taught_me_well
COMMENTS
You May Also Like
Suggest Recipes