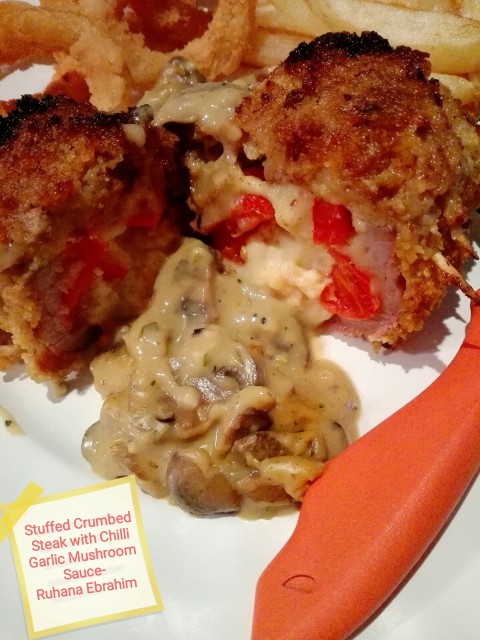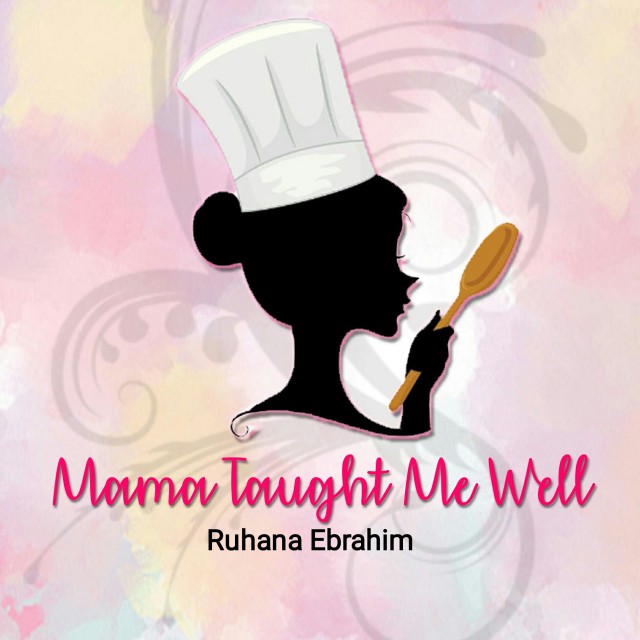 Ruhana Ebrahim
Grand Master
Interior Decorator.
Foodie!
Food styling.
Fusion Cooking.
Recreational baker.
Food Author of "Oh My Cupcakes!"
Mum and wife.
(Another 2 books on the way Insha Allah!)
---

South Africa
Joined 6 years ago
---
@mama_taught_me_well
RECIPE
Stuffed Crumbed Steak

with Chilli Garlic Mushroom Sauce
(Serves 2)

Rec cred: Ruhana Ebrahim
Pic cred: @mama_taught_me_well

Ingredients:
500g topside steak (2 large pieces)
½ bottle Woolworths peppadews (chopped)
Handful baby plum tomatoes (chopped)
1 cup Mozzarella cheese (grated)
Southern fried coating (spicy flour mix)
1 egg
Kelloggs cornflake crumbs
Oil

Sauce-
1 punnet button mushrooms (sliced)
1 tablespoon butter
Dash lemon juice
½ teaspoon chilli powder
¼ teaspoon dhana Jeeru (Cumin) powder
½ teaspoon salt
½ teaspoon lemon pepper
½ teaspoon dried mixed herbs
½ teaspoon ground green chillies
1 teaspoon crushed garlic
250ml double thick cream
1 tablespoon cake flour

Method-
1. Preheat oven to 200degC.
2. Flatten steak, then place in center cheese, tomatoes & peppadews.
3. Fold the smaller sides of steak in, then fold in larger sides and thread with toothpicks to hold together.
4. Roll in southern fried coating.
5. Then brush on beaten egg.
6. Dip into crumbs and pat crumbs firmly onto steak.
7. Place in oven proof dish. Drizzle some oil over.
8. Bake on middle rack for 30min. Remove from oven.
9. Heat a saucepan, melt butter.
10. Add sliced mushrooms and lemon. Toss.
11. Add remainder ingredients besides cream and flour.
12. Cook till mushroom liquid has released.
13. Add cream and flour, mix in, cook till thickened.
14. Crank oven heat to grill to quickly char the outside of steak.
15. Serve steak with mushroom sauce, fries & onion rings.
POSTED ON
11 Feb 2018
WOULD YOU LIKE TO ?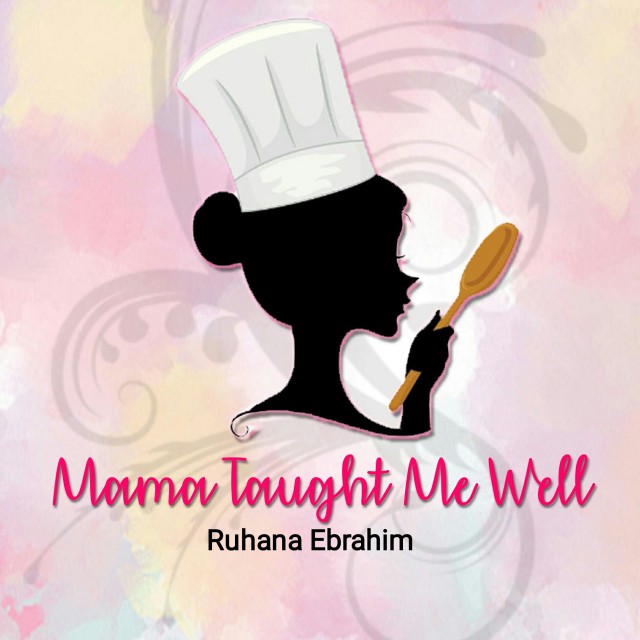 Ruhana Ebrahim
Grand Master
Interior Decorator.
Foodie!
Food styling.
Fusion Cooking.
Recreational baker.
Food Author of "Oh My Cupcakes!"
Mum and wife.
(Another 2 books on the way Insha Allah!)
---

South Africa
Joined 6 years ago
---
@mama_taught_me_well
COMMENTS
You May Also Like
Suggest Recipes