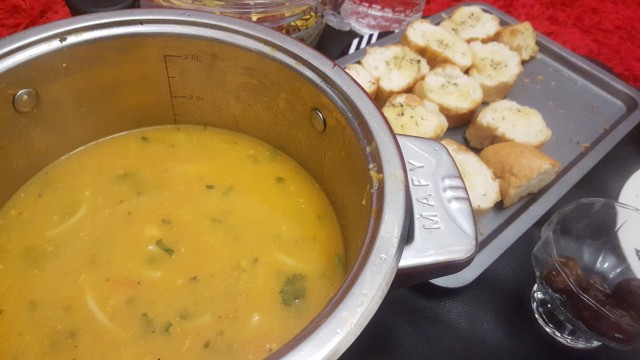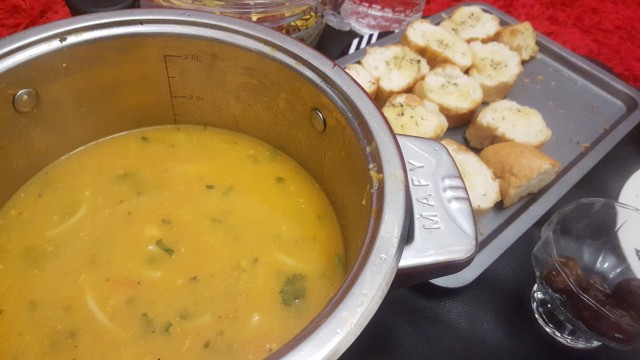 30
favs
0
coms
4.1K
views
*winter* Chicken And Vegetable Soup With Croutons
By Luthfiyah Y
- STUDENT CHEF
INGREDIENTS
SOUP - makes 2 litres or a medium sized potPOT #1- boil all the ingredients until soft- Blend with stick blender.large potato1 green chilli1 onion1 carrot1 tomatoKnorrox chicken stock cubesalt to tastemixed herbs
POT #2- heat oil and add seeds. Then add the rest of the ingredients and braise.Oil½ teaspoon Mustard seeds1 teaspoon Ginger Garlic250 g chicken1 carrot grated¼ teaspoon each of Dhana, Jeeru (Cumin), chilli powder and arad (Turmeric) powder
IN A BOWL, WHISK....Boiling water1 cup milk½ packet vegetable soup mix
METHOD: Add POT #1 mixture as well as the bowl mixture to POT # 2.Boil and add more water of necessary. You can add a handful of broken spaghetti if you wish.
Once soup has boiled well, add:Finely chopped dhania (coriander)Salt and pepper to taste :)
METHOD
CROUTONSMelt 1 tablespoon butter, ¼ teaspoon mixed herbs, and ¼ teaspoon garlic flakes in the microwave.
Brush this mixture on both sides of sliced rolls or any thick bread of your choice. Normal bread is too thin for this.
Bake at 160 degrees for about 10 to 12 minutes. Turn the bread half way through cooking. Enjoy dipped in any soup!
Comments
Ordered By Newest
---
---
Suggest Recipes
You May Like
*winter* Chicken And Vegetable Soup With Croutons is part of the
Soups
recipes category
TAGS
and
chicken
croutons
halaal
luthfiyah
recipe
soup
vegetable
winter
with