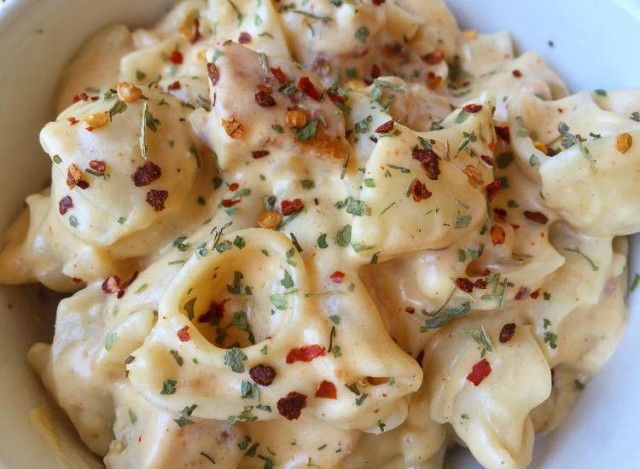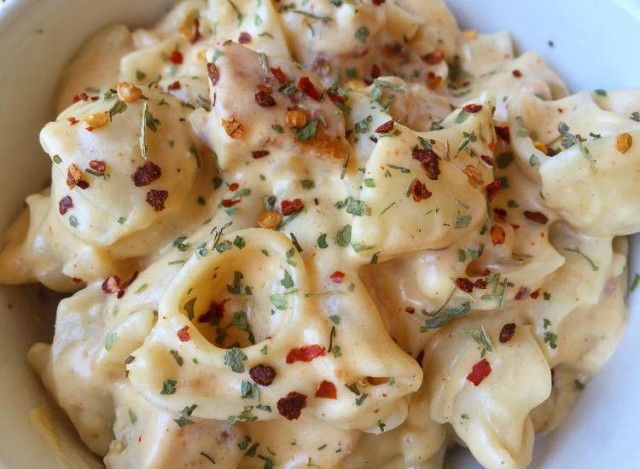 28
favs
0
coms
5.5K
views Denisiya
STUDENT CHEF
1
5.5K
5

Food Blogger & Marketing Specialist...
INGREDIENTS
500 grams pasta3-4 chicken steakletssalt as per taste1 teaspoon oil for boiling pasta1 teaspoon dried mixed herbs2 tablespoons oil for frying the chicken steaklets1 teaspoon red chilli flakeswater1 tablespoon hot saucecheese sauce
METHOD
Boil a pot of water, add salt. When water comes to a boil add in pasta & a little oil. When pasta is cooked, drain and set aside.
I used simply chicken chicken steaklets, fry them in a little oil and cut into cubes. Set aside.
Next make a cheese sauce...here's the recipe for the cheese sauce: http://eatmeerecipes.co.za/british.../homemade-cheese-sauce/ - also I added a little fresh cream to the sauce until it thickened.
Once your sauce is cooked, I added some hot sauce, Chilli flakes & mixed herbs. Then dropped in cooked pasta and fried chicken cubes.Mix it together coating everything in the sauce. Plate and garnish with chilli flakes and mixed herbs.
For more recipes with step by step images, check out http://eatmeerecipes.co.za
INFO & TIPS
You may omit the chicken steaklets & replace with chicken breasts if preferred Denisiya
STUDENT CHEF
1
5.5K
5

Food Blogger & Marketing Specialist...
Comments
Ordered By Newest
---
---
Suggest Recipes
You May Like