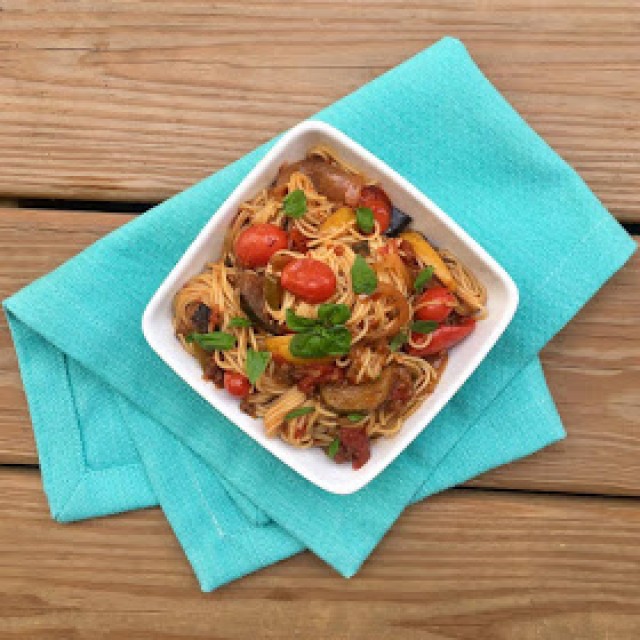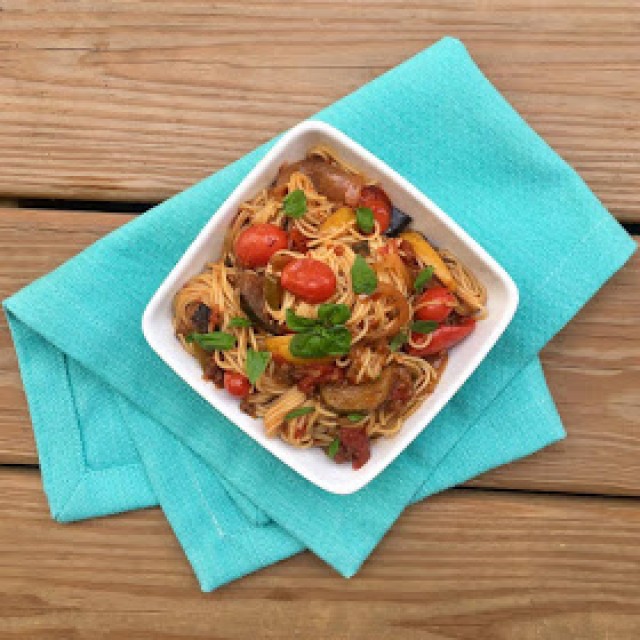 14
favs
0
coms
2K
views
INGREDIENTS
Extra Virgin Olive Oil
2 onions halved and then sliced into wedges
2 peppers, deseeded and chopped into 2" chunks
2 eggplants quartered and then chopped into 2" chunks (brinjal)
2 zucchini or yellow squash halved and sliced (baby marrow)
5-6 tomatoes roughly chopped, juices and seeds included
1 can whole plum tomatoes or stewed tomatoes, undrained
4 cloves of garlic, thinly sliced
A few sprigs of fresh thyme or 1 teaspoon dried
½ bunch fresh basil
2 Tablespoons Balsamic Vinegar
Salt and fresh ground black pepper
METHOD
Heat a large stock pot over medium heat. Add 2 Tablespoons of Olive Oil. Once oil is hot add your chopped peppers, zucchini, and eggplant and sauté until they begin to soften and brown a bit. Do not cook through. Work in batches if needed and transfer cooked veggies to a bowl. Set aside.

Add a teaspoon of oil to the stockpot along with the garlic and onions. Sauté for 15 minutes until soft and beginning to caramelize. Add the cooked vegetables, tomatoes- fresh and canned, whole sprigs of thyme and Balsamic Vinegar to the pot. Stir well to combine, gently scraping the bottom of the pot to incorporate the wonderful brown bits into the stew. Cover and turn the heat down to low. Allow to simmer for 30 minutes, stirring occasionally.

Add a good pinch of salt and fresh ground black pepper and stir well. Simmer for an additional 15-30 minutes allowing the sauce to reduce and thicken. The longer the veggies simmer, the softer and silkier they will become. Taste and adjust seasoning. Remove the stems of the thyme and discard. Now you want to chiffonade the basil. You do this by stacking the basil leaves on top of one another and then roll up. Thinly slice the basil creating long thin strips. Sprinkle the basil into the ratatouille, reserving a bit for garnish. Stir to combine.

Serve alongside crusty bread, trust me you'll want it to sop up all the delicious sauce. Enjoy!
INFO & TIPS
taken from my retro kitchen food blog
http://myretrokitchen.blogspot.com/2017/10/classic-ratatouille.html?m=1

recipe and picture taken from above blog
Comments
Ordered By Newest
---
---
Suggest Recipes
You May Like
Ratatouille is part of the
Vegetarian
recipes category
TAGS
halaal
ratatouille
recipe
sulibobs
umm