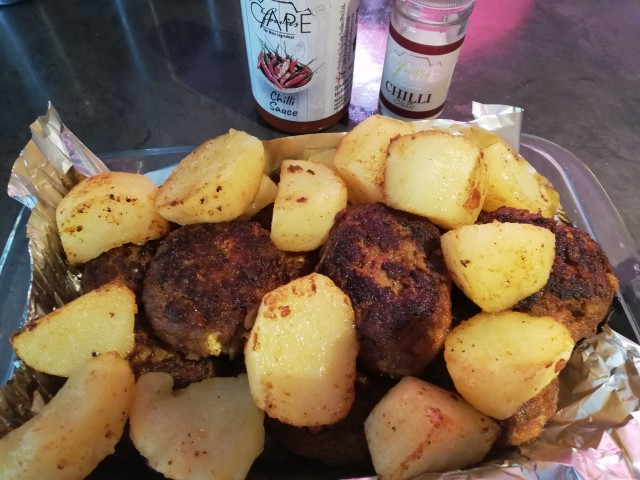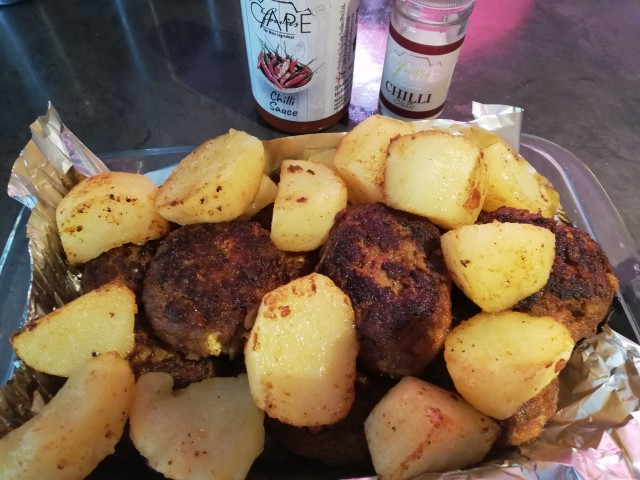 8
favs
2
coms
1.4K
views
INGREDIENTS
400g Mutton/Beef Mince1 Large Onion1 Tomato, choppedGreen Pepper, chopped½ teaspoon Garlic ½ teaspoon Tumeric1 teaspoon Paprika ½ teaspoon Jiera ½ teaspoon BBQ Spice or any Spice1 Egg4 Slices bread, (Soaked in water)DanyaOil4 Eggs, (seperatly cooked) CHILLIE SAUCE - FOR DIPPING
METHOD
Fry the onion, tomato in the hot oil. Add the green pepper chopped, into the mince with the egg & bread lastly.Then add the spices & the chopped danya. In the middle of the kebab you can put some (sliced) cooked egg in each one. Fry until golden brown.
Makes 10 - 12 Lovely with Wraps & Salads & Potato 😋
INFO & TIPS
TIP
SQUEEZE ALL THE WATER OUT OF THE BREAD KEEP THE KEBABS FRM SIZZLING IN THE PAN WHEN FRYING IT.
Also make this kebab ahead of time, (a day before) & then frying when needed.
Advertise Here
Want to see your advert here ? find out how to advertise with us.
Learn more.
Comments
Ordered By Newest
---
---
Suggest Recipes
You May Like
Green Pepper 💚kebabs is part of the
Beef, Mutton, Steak
recipes category
TAGS
green
halaal
kebabs
khan
pepper
recipe
shaheema