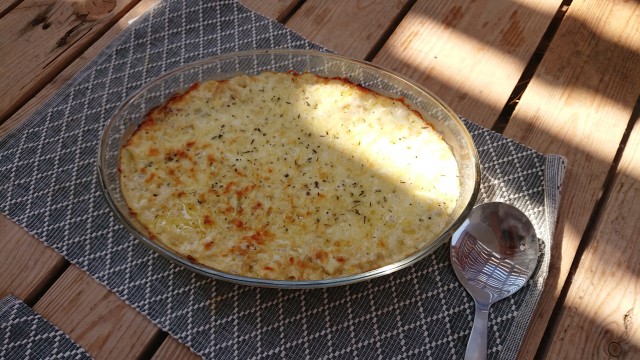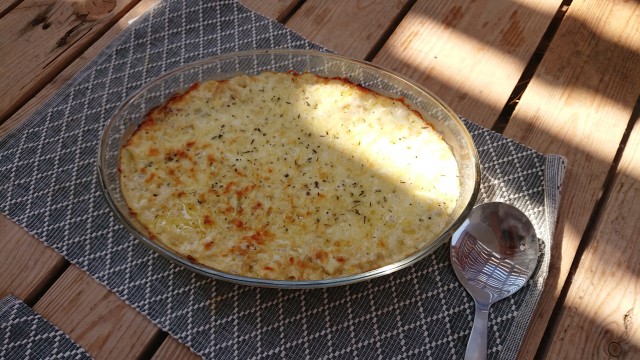 3
favs
0
coms
840
views
INGREDIENTS
¼ of cup of olive oil 1 bay leave3 cloves of garlic 8 small onions 2 dessalted cod steaks½ kg of potatoes 3 boiled eggsgreen or black olives 500 ml of fresh creamChopped parsleyBlack pepperSalt if neededMozarrela cheese
METHOD
First, Put the cod steaks in a saucepan with water and boil over high heat. When starts boiling, reduce to low heat and cook about 6 to 7 minutes. Turn off the heat and drain the cod with a skimmer. Let cool slightly and remove the skin and bones. Flake the cod with a fork and set aside.Meanwhile, peel and wash the potatoes. Cut them into small cubes, season with some salt and fry in hot oil (don't fry too much). When the potatoes are fried, place them on a dish with absorbent paper.Put the olive oil, bay leave the chopped onion and the chopped garlic in a saucepan and saute over low heat until the onion start to turn slightly golden brown. Add the potatoes and the cod and season with pepper.then add the boiled eggs, olives and Stir gently with a spoon and cook for about 6 to 7 minutes, stirring occasionally. Remove the bay leave add half of the cream and chopped parsley . Mix well. Preheat the oven to 180ºCin a pirex put the potatoes and the cod mixture in a baking dish. Drizzle the rest of the cream, sprinkle with grated mozzarella and bake until golden brown , about 20-30 minutes.
INFO & TIPS
I added cheese Aromat to the fresh cream. Didn't used salt at all. And I sprinkled with mixed herbs because didn't have parsley
Advertise Here
Want to see your advert here ? find out how to advertise with us.
Learn more.
Comments
Ordered By Newest
---
---
Suggest Recipes
You May Like
Cod Fish With Cream is part of the
Seafood
recipes category
TAGS
cod
cream
fish
halaal
recipe
samra
with