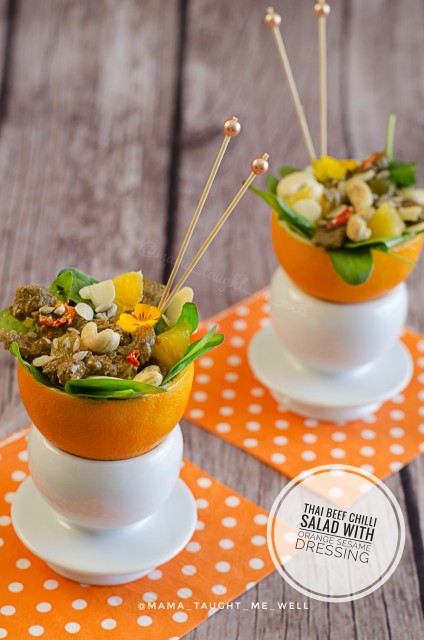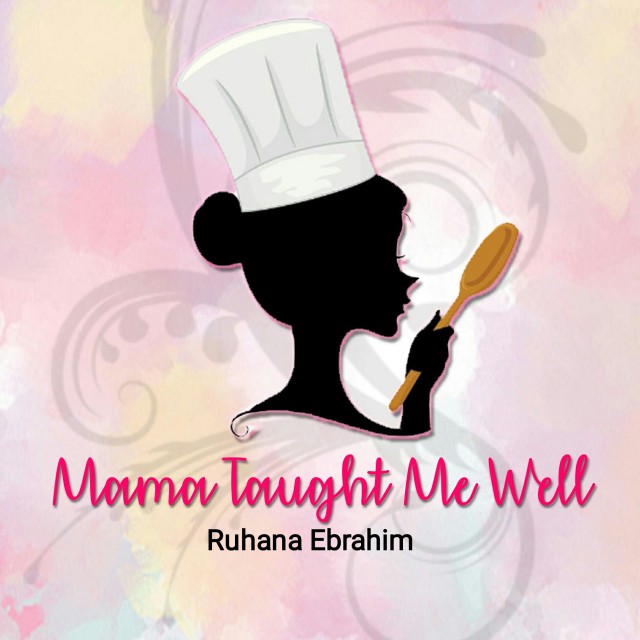 Ruhana Ebrahim
Grand Master
Interior Decorator.
Foodie!
Food styling.
Fusion Cooking.
Recreational baker.
Food Author of "Oh My Cupcakes!"
Mum and wife.
(Another 2 books on the way Insha Allah!)
---

South Africa
Joined 6 years ago
---
@mama_taught_me_well
CREDITS
Rec cred: @mama_taught_me_well
Pic cred: Ruhana Ebrahim


INGREDIENTS
(with Orange Sesame Dressing)
500g rump beef (cut into 4 pieces)100g thin vermicelli (optional)200g packet lettuce (chopped)1 packet coleslaw mix2 carrots (thinly julienned)1 red pepper (julienned, then further halved)½ cup fresh sugar snap peas1 small red onion (sliced)2 oranges (peeled & segmented)Juice of 2 oranges2 tablespoon brown sugar2 tablespoon brown vinegar2 tablespoon soy sauce2 tablespoon oil/ or sesame oil1 teaspoon ground ginger paste1 tablespoon ground garlic paste1 teaspoon ground red chillies¼ teaspoon salt (or more)½ teaspoon white pepperHandful coriander/ or spring onions (chopped)¼ cup dry roasted peanuts/ or cashews
Dressing-¼ cup orange juice2 tablespoon oil2 tablespoon soy sauce2 tablespoon white vinegar4 tablespoon sweet chilli sauce½ teaspoon ground garlic paste2 tablespoon sesame seeds2 tablespoon oil
METHOD
Dressing-1. Heat the oil and slightly fry off the sesame seeds. Remove 2 teaspoon of the fried sesame seeds and keep aside.2. Add garlic and fry for few seconds.3. Remove from heat, add with all other ingredients in a blender, blend together.4. Leave aside till needed.
Salad-1. Make a paste with ginger, garlic, chillies, vinegar, sugar, salt, pepper, soy sauce and orange juice.2. Massage onto steak pieces.3. Sear steak on both sides on a grill pan, for 4min each.4. Remove, cover and leave to rest. 5. Heat oil in a wok, add carrots, onion and red pepper and saute with a pinch of salt and pepper.6. Once veg is just tender, add spring onions and toss. 7. Remove from heat and allow to cool.8. Place the lettuce, coleslaw mix, orange segments and sauted veg in a deep bowl.9. Toss with 2/3 of dressing and spoon onto serving platter.10. Slice steak into strips and place onto salad.11. Pour remainder dressing over steak.12. Garnish with reserved sesame seeds, nuts and fresh greens.
INFO & TIPS
Note: If using vermicelli, boil till al-dente and mix with veg once cooked. Then add to lettuce and coleslaw mix when adding in the sauted veg.
POSTED ON
21 May 2020
WOULD YOU LIKE TO ?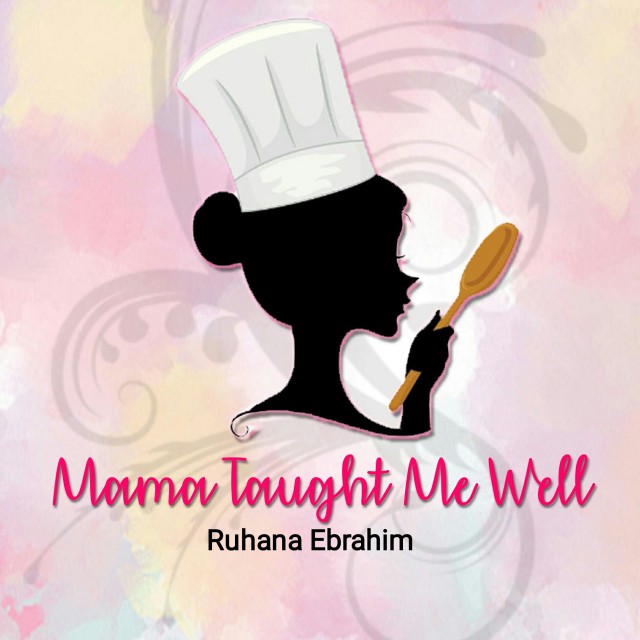 Ruhana Ebrahim
Grand Master
Interior Decorator.
Foodie!
Food styling.
Fusion Cooking.
Recreational baker.
Food Author of "Oh My Cupcakes!"
Mum and wife.
(Another 2 books on the way Insha Allah!)
---

South Africa
Joined 6 years ago
---
@mama_taught_me_well
COMMENTS
You May Also Like
Suggest Recipes