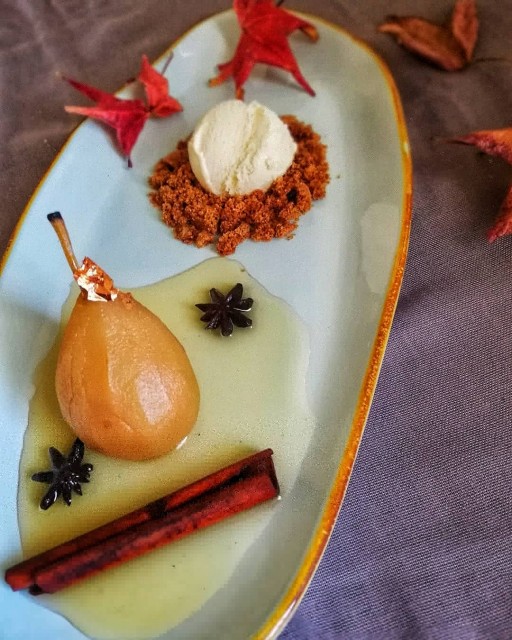 @saadia_b_
Sous Chef
Creative expression, real, soul-full content
---

South Africa
Joined 2 years ago
---
@saadia_b_
CREDITS
@saadia_b_
Saffron infused poached pears
Recipe Cred: Jamie Oliver ( adapted)


INGREDIENTS
4/6 pears..leave the stalks on. Syrup ingredients :1 litre water320g castor sugar1 cinnamon stick10 crushed Elachi (cardomom) pods2 star aniseedHalf a vanilla pod1/4 teaspoon saffron (I added a little more)
METHOD
Peel 4/6 pears..leave the stalks on.
Gently simmer the pears, in the syrup, on medium heat for 2 hours or until the pears are soft.
Remove pears, boil down until a thicker syrup forms.. pour over pears before serving.. ((drizzle some nestle cream and sprinkle with pistachios..))I used vanilla ice cream and ginger biscuit crumb instead. (you can even use store-bought ginger biscuit☺️)..Serve the poached pear hot. (reheats in the microwave perfectly). Pour room temperature syrup over. Serve with ice cream and biscuit crumb /nestle cream and pistachios. .P. S. The syrup is sinfully sweet, as all good syrup should be☺️. If you prefer a less sweet taste, pour a smaller serving of syrup or serve it with an unsweetened dessert cream instead.We loved it as is, with a smaller serving of syrup 🌹❤️.
POSTED ON
31 May 2020
WOULD YOU LIKE TO ?

@saadia_b_
Sous Chef
Creative expression, real, soul-full content
---

South Africa
Joined 2 years ago
---
@saadia_b_
COMMENTS
You May Also Like
Suggest Recipes