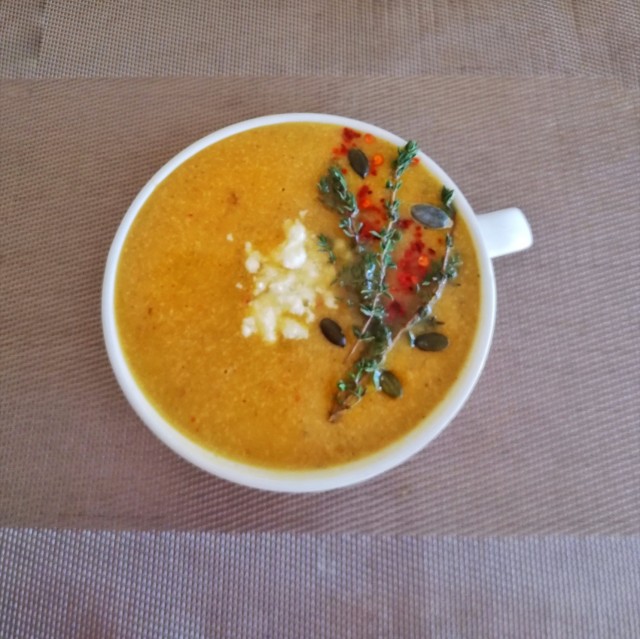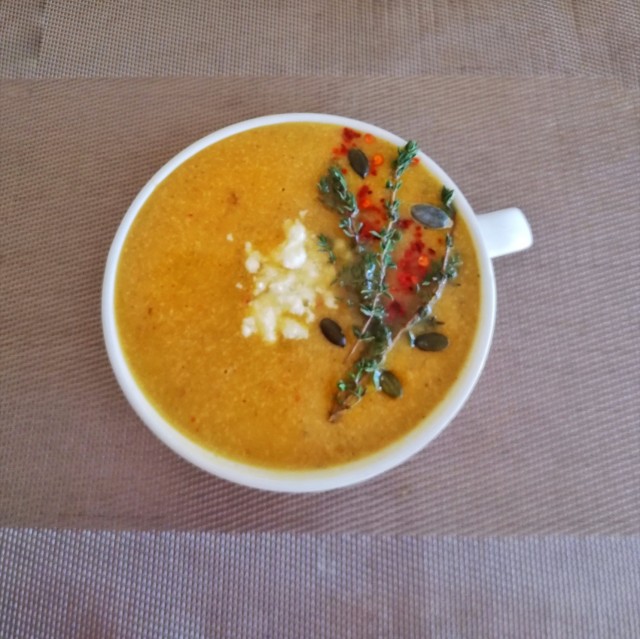 9
favs
0
coms
772
views @saadia_b_
SOUS CHEF
40
76.7K
69

Creative expression, real, soul-full content...
Chicken And Roasted Creamy Pumpkin Soup
By @saadia_b_
- SOUS CHEF
CREDITS
INGREDIENTS
500g of pumpkin cubed1 large fillet of chicken cubed½ of an onion finely sliced1 potato (cubed into very small bits)Green chilli (optional) Salt and pepper 1 tablespoon thyme (fresh chopped, or ½ tablespoon dried) 2 teaspoon ginger paste 2 teaspoon garlic paste ½ cup of veg stock (optional) 1 teaspoon cinnamon powder (heaped) 1 teaspoon chilli flakes (adjust to your heat preference) 1 tin coconut milk 2tbl butter ½ fine salt (for the chicken)
METHOD
Lay veggies (pumpkin, potato - chopped very tiny - , half an onion sliced very fine) in a flat oven suitable dish/tray.Sprinkle salt and pepper liberally.(ground black pepper, white pepper)(You may add veggie spice, lemon pepper etc but if you don't have this in your country or if you're clean eating then salt and pepper is perfect.) Drizzle olive oil liberally and toss.Bake in a preheated oven at 220C, turning halfway.(I didn't time this but it was approx 30min)Blend veggies once cooled with some water . . Cook the finely cubed chicken fillet in :Butter, thyme, ginger, garlic, cinnamon, chilli and salt.(ground green chilli is optional) Cook until tender..Add coconut milk, your blended veggies, stock (optional) to your chicken. Add water and allow to steam for the flavours to fuse together..Adjust for seasoning if you need..Serve garnished with crumbed feta, pumpkin seeds and thyme. @saadia_b_
SOUS CHEF
40
76.7K
69

Creative expression, real, soul-full content...
Comments
Ordered By Newest
---
---
Suggest Recipes
You May Like
Chicken And Roasted Creamy Pumpkin Soup is part of the
Soups
recipes category