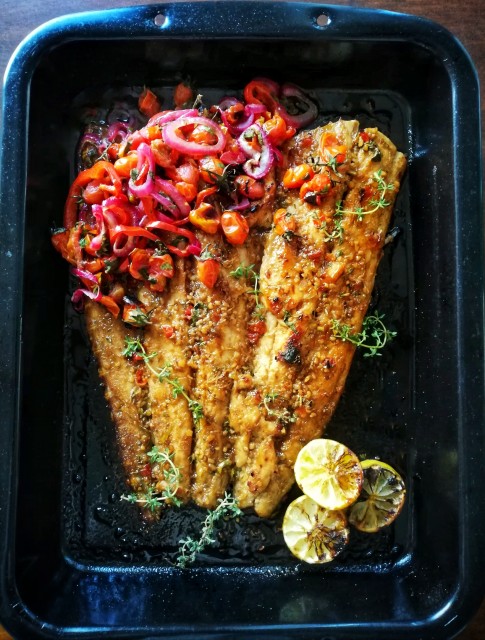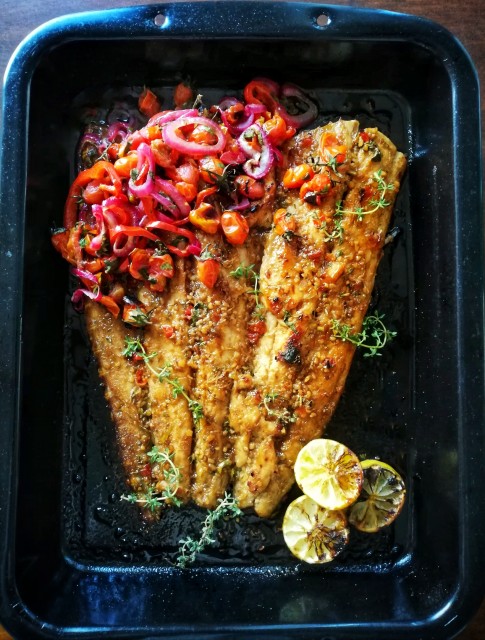 15
favs
0
coms
1K
views @saadia_b_
SOUS CHEF
40
84.3K
72

Creative expression, real, soul-full content...
CREDITS
Recipe sharer : @saadia_b_
Credit : Sandys kitchen


INGREDIENTS
Snoek :Ingredients :1 fresh snoek, cleaned, butterflied (800g)2 cloves garlic (minced)3 tablespoon olive oil, plus extra1 fresh red chilli, deseeded and sliced fine2 tablespoon grated fresh ginger4 tablespoon Apricot jam2 tablespoon fruit chutney2 tablespoon soy sauce5 sprigs of fresh thymeJuice of 2 lemonsZest of 1 lemonSalt and pepper, to taste
Lemmetjie Salsa :4 large tomatoes (or a handful of cherry tomatoes) 1 red onion, peeled 2 garlic cloves, minced 1 red pepper, deseeded ½ cup fresh coriander ½ teaspoon paprika4 tablespoon lime juice
METHOD
Snoek :On a braai (bbq), adjust coals to medium heatORIn an oven adjust setting to grill. Blot snoek with a paper towel to dry. Rub olive oil and salt to skin-side. Bring all the Snoek ingredients together and baste half over the flesh side of the Snoek. Place snoek skin-side down on the braai (bbq) grid or in the oven. (you may use a suitable tray to hold the Snoek better)Continue to baste. Cook for 10-15min until done. If you're able to turn the fish without any breakage then you may turn over at the last 5 minutes of cook time. Snoek is done when it can flake easily with a fork.
Lemmetjie salsa : Chop all the ingredients. Place in a pan, add paprika and lemon juice and cook for 2 - 3 minutes. Salsa should be sweet with a lime flavour coming through. Serve over the Snoek, with the remaining salsa on the side.
Garnish the dish with grilled lemon halves and fresh sprigs of thyme.
Below are my variations :Use the grill function of your oven and place snoek in a non-stick tray. Baste the fish with all of the glaze before adding to the oven. Slice your veggies in rounds and substitute with cherry tomatoes to add more character to your Salsa. Grill Salsa with a splash of olive oil until slightly blistered instead of a stove-top cook. @saadia_b_
SOUS CHEF
40
84.3K
72

Creative expression, real, soul-full content...
Comments
Ordered By Newest
---
---
Suggest Recipes
You May Like
Cape Glazed Snoek is part of the
Seafood
recipes category