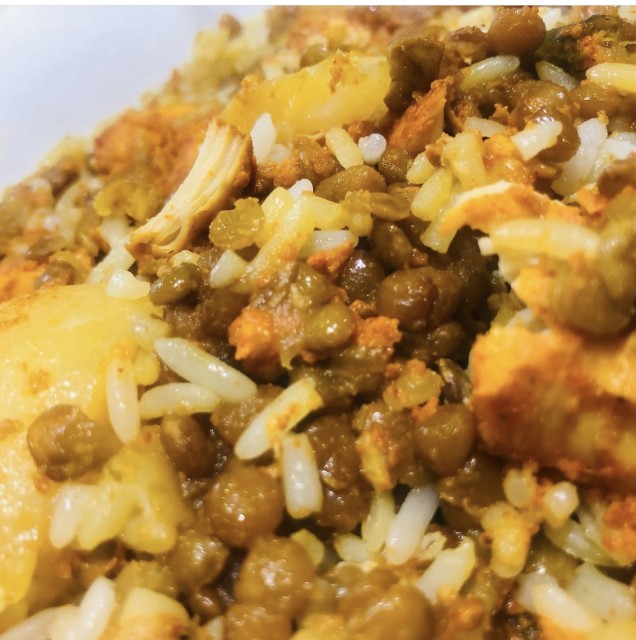 Feroza Joossub Asmall
Kitchen Hand

South Africa
Joined 6 years ago
---
@feroza_joossub_asmall
CREDITS
Original recipe unknown - adapted by @feroza_joossub_asmall


INGREDIENTS
1kg chicken 1.5 teaspoon rough salt2 teaspoon kashmiri chilli powder 1 teaspoon dhania (coriander) jeera (heaped)1 teaspoon ginger garlic (heaped)½ teaspoon red chilli paste3 green chillies slit2 Elachi (cardomom)2 cloves2 cinnamon sticks½ teaspoon arad (Turmeric)½ teaspoon egg yellow colouring1 teaspoon whole jeera2 tablespoon yoghurt 1 cup fried onions2 tomatoes liquidised ¾ cup ghee (Clarified butter)
2 cups Masoor (Back lentils)4 to 5 potatoes5 cups of rice
METHOD
Marinate the chicken in the following and leave overnight:
1.5 teaspoon rough salt2 teaspoon kashmiri chilli powder 1 teaspoon dhania (coriander) jeera (heaped)1 teaspoon ginger garlic (heaped)½ teaspoon red chilli paste3 green chillies slit2 Elachi (cardomom)2 cloves2 cinnamon sticks½ teaspoon arad (Turmeric)½ teaspoon egg yellow colouring1 teaspoon whole jeera2 tablespoon yoghurt 1 cup fried onions2 tomatoes liquidised ½ cup ghee (Clarified butter)
Boil 2 cups of Masoor (Back lentils) in salted water till the inside is soft but the outside must still be firm. Strain and leave aside.
4/5 potatoes quartered, fried and kept aside.
5 cups rice (most recipes use 3 cups but I find the rice is always less so 5 works for us)Boil the rice in salted water with ½ teaspoon whole jeera seeds. Leave aside.
In a pot (need a wide base - I use the old "india" pots), layer as follows:
1. Put ¾ cup ghee (Clarified butter) or enough to layer the surface 2. Layer half the Masoor (Back lentils) or enough to form a good base3. Layer the chicken (if you using bones, preferably put the bones in the centre). 4. Cover the chicken with the rest of the Masoor (Back lentils).5. Layer the potatoes6. Put all the rice7. Sprinkle half a cup of water
Cover the pot with foil and then with the lid. Put it on high for 10 minutes then medium heat for 50 minutes. Preheat the oven to 140 deg - transfer the pot from the stove to the oven and allow it to steam for an hour to an hour and a half. I usually leave it for an hour and a half then switch the oven off and leave it for about 20 to 30mins before serving.
INFO & TIPS
If you want to put vagaar, once the breyani is ready and out of the oven, fry some onions in ghee and spread on top of the rice before serving.

You can add boiled eggs and use saffron for colour however my family likes neither so I just leave it out.
POSTED ON
01 Jan 2023
WOULD YOU LIKE TO ?

Feroza Joossub Asmall
Kitchen Hand

South Africa
Joined 6 years ago
---
@feroza_joossub_asmall
COMMENTS
You May Also Like
Suggest Recipes