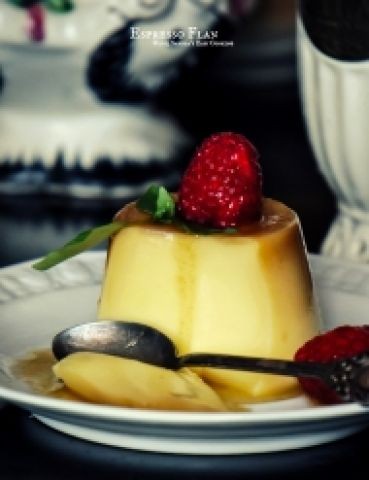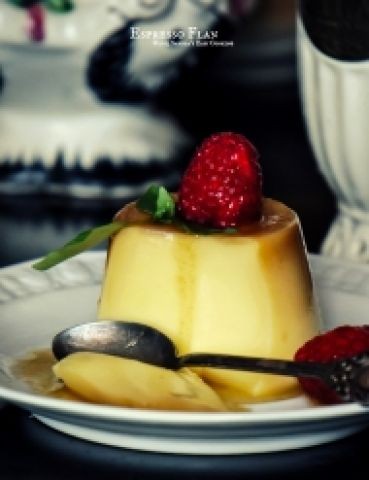 INGREDIENTS
½ cup Caramel -more if desired (recipe under directions)
⅓ cup melted butter -for brushing the sides of oven safe ceramic dishes
5 Eggs
2 Egg yolks
1 cup sugar
1 teaspoon pure Vanilla Extract
1 ¼ cups Heavy cream
1 cup Milk
Pinch of Salt
4-6 Tablespoons hot brewed Espresso

Caramel:
¾ cup Water
1 cup Sugar
METHOD
In a large bowl, whisk together egg and egg yolks. While whisking add the sugar slowly until fully dissolved. Add vanilla, heavy cream, milk, and salt and continue to whisk. In order to get rid of air bubbles in mixture, transfer to large bowl through a fine strainer.

In the bottom of small ceramic custard cups or any oven safe dishes, place about 1 teaspoons or more of caramel. When all dishes have caramel at the bottom, brush the dish sides almost to the bottom with melted butter to the flan will be removed easily once flipped onto the plate. Fill each dish with the flan mixture.
Preheat the oven to 180C.

Place almost full ceramic dishes in shallow baking pan and then fill the pan with hot boiling water. The hot water bath will allow the flan cups to cook evenly in the oven. Right before placing pan in oven, top each ceramic dish with half tablespoon or one tablespoon of hot espresso. Bake for about 40 minutes.
When removing pan from oven, allow the ceramic oven safe dishes to remain cooling in their original water bath, overnight if necessary.

Before serving, you could place ceramic dishes in another shallow pan of warm water to loosen the custard. Run a very thin knife around the inside edge of cup to further loosen, place a plate on top of the ceramic dish and flip onto plate to serve.

Serve it alone or with fruit of your choice with perhaps mint or fresh basil leaf.

How to make Caramel:
Combine 1 cup of the sugar and ¾ cup of water in a heavy-bottomed pot or pan. Place over medium-high heat and cook until the sugar begins to melt.

Swirl the pan over the heat on low until starts to bubble, get thicker and the syrup darkens to a medium amber color, about 10-15 minutes; Use wooden spoon to stir.
INFO / TIPS / CREDITS
This Espresso Flan recipe is not for the faint of heart but is very worth the trouble
Comments ordered by Newest
---