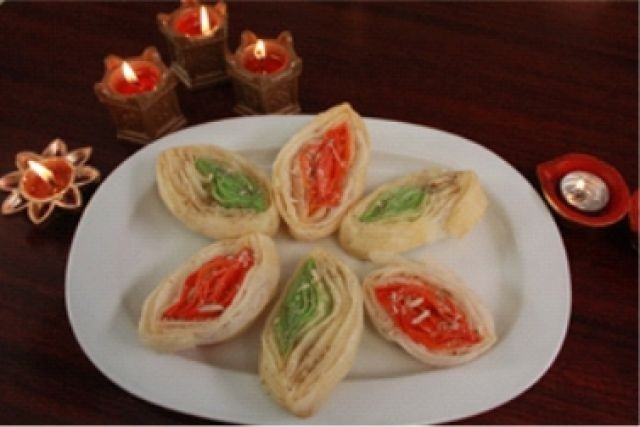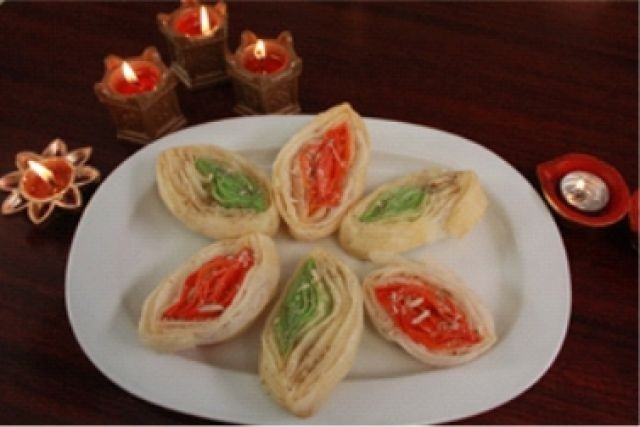 INGREDIENTS
2 ½ cups golden cloud Cake Flour
2 teaspoon Baking Powder
Pinch of salt
2 tablespoon butter ghee (Clarified butter) (semi solid)
1 teaspoon red food color
½ cup of melted ghee (Clarified butter) or margarine for brushing
Corn flour for sprinkling
Oil for deep frying
250 g sliced almonds with skin(for decorating)
2 teaspoon freshly ground elachie powder(for decorating)

Syrup
2 cups of sugar
1 cup water
5 ml rose water
Bring to a boil until sticky, remove and cool

METHOD

Sift flour baking powder and salt together, rub in the ghee (Clarified butter) (2 tablespoon).
Remove ½ cup of this flour into a separate bowl, add red food color to
water and form a dough.
To the balance of flour form another dough with just water.
Leave aside.
Roll out the colored dough into one big approx. 35 cm round, brush with melted ghee (Clarified butter)/margarine and sprinkle generously with corn flour.
Rub water on the edges and roll loosely to form a swiss roll,leave aside.
With the other plain white dough divide into 4 pieces roll out into approx 20 cm rounds, brush each with melted ghee (Clarified butter)/marg alternate one with sifted corn flour sandwich one on top of the other having two piles of two, again apply ghee (Clarified butter) on both and corn flour on one and sandwich together making one pile of 4.
Roll out pile into a large 35-40 cm round, brush with ghee (Clarified butter) sprinkle with corn flour and apply water to the edges, apply ghee (Clarified butter) to the coloured swiss roll and place on top and at the edge of the rolled out pile, rolling loosely to form another swiss roll,
apply water at the end to seal.
Allow to stand for 10mins.
Cut into 2-5cm width ,press each piece with your finger then roll out into
10-12 cm in length.
Fry one at a time in moderately hot oil allow to puff to show layers of pastry.
Drain well on a wire rack. To decorate, sprinkle with elachie powder,
sliced almonds and drizzle with syrup.
Comments ordered by Newest
---