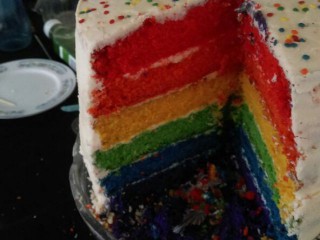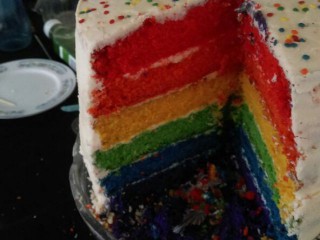 INGREDIENTS
360 grams cake flour
360 grams castor sugar
4 ½ teaspoon baking powder
120 grams butter, at room temperature
360 ml milk
3 eggs
¾ teaspoon vanilla extract

Vanilla frosting:
500 grams icing sugar
160 grams butter, at room temperature
50 ml milk
½ teaspoon vanilla extract

For a 6 layer cake you will need to double this recipe
METHOD
1.Preheat oven to 170°C/340°F.
2.Beat together flour, sugar, baking powder and butter on a low speed until the ingredients are mixed in a sandy texture.
3.Gradually pour in half the milk and beat until incorporated.
4.In a separate bowl, whisk together egg/s, vanilla extract and the rest of the milk briefly and then pour into the flour mixture.
5.Continue mixing for a couple of minutes until the mixture is smooth.
6. Divide mixture equally in three bowls. Tint batter, 1 bowl purple, 1 bowl green, 1 bowl blue.
7. Bake each color in a 8" lined tin. You will have three different color layers.

Repeat the whole process again and this time tint your batter 1 bowl red, 1 bowl orange, and 1 bowl yellow.

To assemble the cake: Place the bottom cake layer on a plate or cake stand. Cover it with a thin layer of frosting, then add the second layer on top. Cover with frosting and add third layer and so on till you are done. Cover the entire cake with the remaining frosting and decorate as desired.
Comments ordered by Newest
---