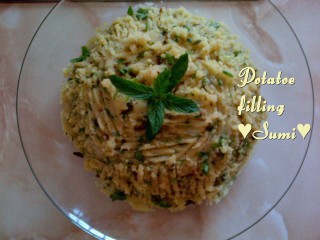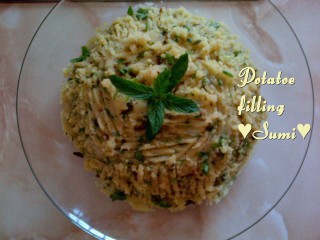 Potatoe Filling For Parathas,samoosa,pies,pizza Etc
By Sumayah
- MASTER CHEF
RECIPE
INGREDIENTS
4 potatoes, cubed and boiled in arad (Turmeric)
1 onion cubed
1 teaspoon whole jeera
2 teaspoon ground garlic

1.      Braise onions in ghee (Clarified butter) with jeera and garlic until pink
2.      Add the following ingredients and braise a little

1 teaspoon fine salt
1 teaspoon green chillies or to taste depending on how strong you like it.
½ teaspoon black pepper
½ teaspoon lemon pepper
½ teaspoon teaspoon roughly ground jeera
¼ cup finely sliced curry leaves
3 tablespoon lemon juice

When all of the above is braised with onions, remove from stove and add to potatoes.
Leave to cool before filling your savouries.
Comments ordered by Newest
---