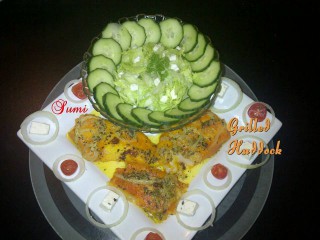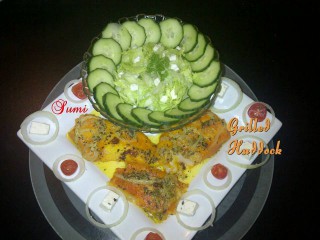 3
favs
0
coms
2.8K
views
RECIPE
Spray some spray and cook in a flat pyrex. Lay haddock in pyrex dish .Cover with onion ñ∂ green pepper rings. Sprinkle generous amount of crushed black pepper. Dot ώĩ†̥ђ butter ñ∂ cover ώĩ†̥ђ foil. Bake @ 180 4 15 minutes den remove foil ñ∂ bke till water dried up. Serve ώĩ†̥ђ garlic or plain rolls

Variation.

Plain hake cn also be used. Instead of plain butter use garlic butter.
Ad sliced mushrooms ώĩ†̥ђ onions ñ∂ ppers
Cn serve ds ώĩ†̥ђ wedges,mash or chips

»̶ S̶̲̥̅̊um̶̲̥̅̊​A̶̲̅Ýa̶̲̥̅̊н̣̇ «̶ إبراهيم.
Comments
Ordered By Newest
---
---
Suggest Recipes
You May Like
Grilled Haddock is part of the
Seafood
recipes category