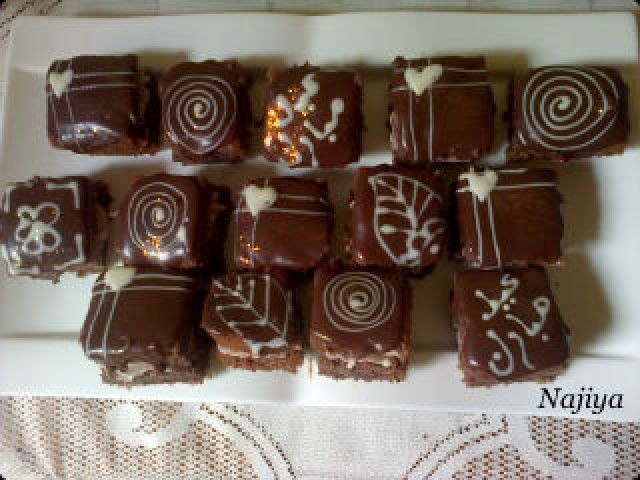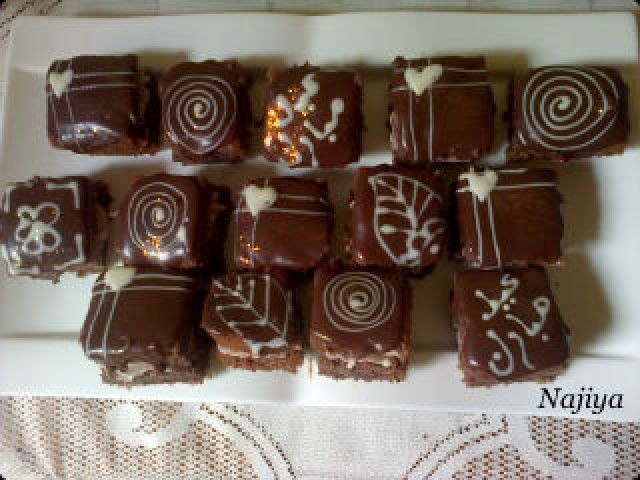 RECIPE

Seperate 3 eggs..
beat egg whites till stiff...leave aside

mix 2 heaped tablespoon cocoa in half cup hot milk,,add yolks.
1 teaspoon vanilla essence
½ cup oil..beat
sift in 1 cup sugar
1 cup flour
2 ½ teaspoon baking powder..beat all that for 2-3 minutes..fold in egg whites..Put batter in a greased rectangle pan...bake at 180 till a skewer inserted comes out clean..
MOUSSE
Melt 100g dairy milk chocolate in
250ml fresh cream
Add 3 tablespoon nutella
And 3 tablespoon icing sugar
Allow to harden in fridge..scrape into kenwood bowl and beat with baloon whisk till fluffy..
Cut cake into squares...slit each square in half..pipe or spread mousse in the middle,top each sqaure with ganache made by melting plain choc and nestle cream..decorate with melted white chocolate..

Comments ordered by Newest
---