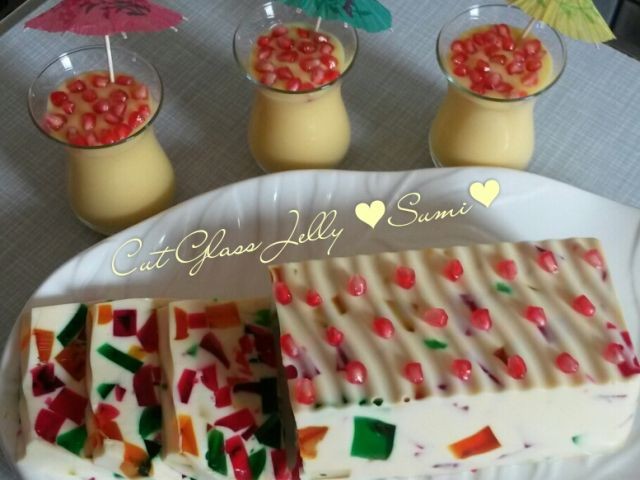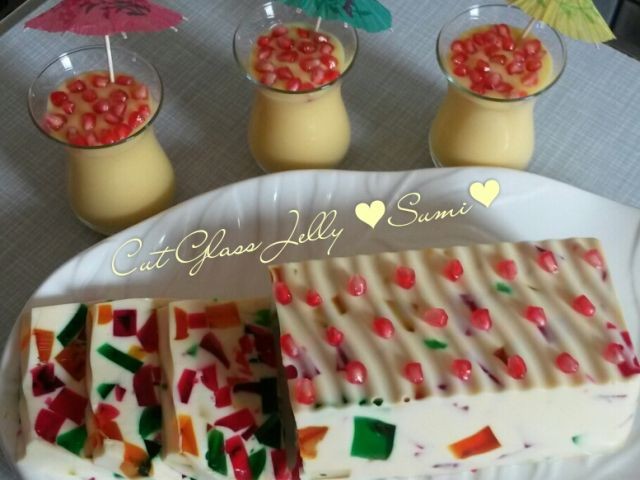 INGREDIENTS
1 cup milk
1 cup cream
1 tin condensed milk
Gelatin 2 tablespoon 
Jelly cubes 3 colors of red, green and orange.
For each flavor, dissolve one box of jelly in one cup of boiling water. Pour into a container and chill (overnight is probably best, but I chilled it 3 hours until firm).


METHOD
METHOD:
-Only add 1 cup of water to each box of colored Jelly. Ignore the instructions on the box of Jelly (they say to use 2 cups of water). Use only 1 cup of water so the Jelly is firm and can be cut into blocks.
-After chilling the flavors, cut them into small blocks.
-Take a pan put in cream, milk and condensed milk and bring to a boil on low heat.
-In a separate bowl, sprinkle 2 tablespoon gelatin into ½ cup cold water.
-After the gelatin blooms add this mixture in milk and stir well, let it cool completely.
-Take a cake pan and grease it well, place jelly cubes randomly,carefully mix the cubes and pour over cooled milk mixture.
-Chill overnight.
- Once set take it out then unmould
Comments ordered by Newest
---