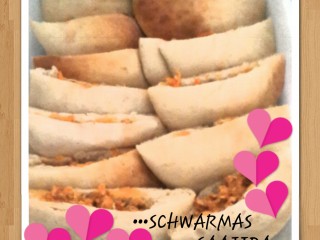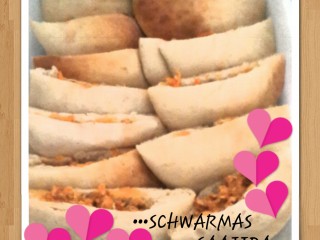 RECIPE
Dough::
5 cups flour
1 packet yeast
3 tablespoon sugar
1 teaspoon salt
1 cup milk
1 cup boling water
¾ cup oil
Mix dry ingredients together....
Mix wet ingredients together....
Combine both together to make a soft dough.allow to rise till dbl in size......

Filling:
Cook fillet with normal spices,wen almost done add in 3-4 liqudized tomatoes 2 grated carrots.salt.arad (Turmeric).dhana jeeru (cumin).red chillies fine and rough.ginger garlic.lemon pepper.tomatoe sauce.mayo.steers sauce....
Slit pitas in the centre.fill.opt to put cucumber and lettuce in.....toast b4 serving

##ENJOY....
INFO & TIPS
Any extra pitas can be frozen and ised as needed........this dough can also be used for pizza bases...rolls...calzones...subs.....etc
Comments ordered by Newest
---