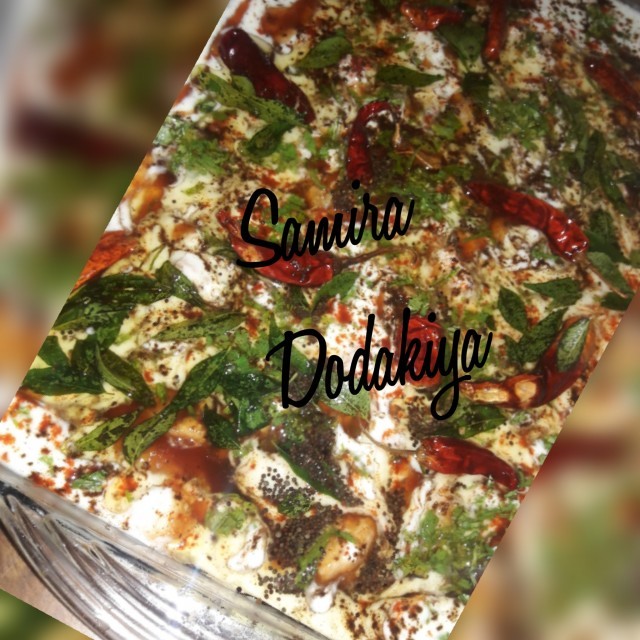 Samira
Student Chef
Just a normal girl doing wonders in the kitchen with my mom!
---

South Africa
Joined 5 years ago
INGREDIENTS
• 2 cups urad dal( soaked over night)
• 1 large onion chopped
• 500ml thick yogurt
•1 teaspoon green chilli.paste
• 1 teaspoon red chilli powder
•1 teaspoon cumin powder
• 1 teaspoon black salt
• salt to taste
• oil for frying and extra 5 tablespoon for vagar
•2 teaspoon black mustard seeds
• 5 whole dried red chillies
• ½ cup white sugar
• 1 cup tamarind sauce
METHOD
Soak the urad dal overnight,
In a mixer grind the dal and the onion into a thick paste. Add in salt to taste and green chilli paste. Mix well. Heat up the oil and fry medium sized fritters until golden brown.

In a pot add water and add in the fried fritters, let them soak the water for around 15 seconds then take each fritter one by one and flatten it between your palms, an arrange a layer in a deep serving dish.

Whisk up the yogurt and sugar, pour this over the flatten fritters., then sprinkle over red chilli powder, black salt, cumin powder, salt, and the tamarind sauce.

In a fry pan heat up the 5 tablespoon oil, whole red chilli, mustard seeds and pour over the yogurt.

Serve chilled....
INFO & TIPS
Serving them chilled in the fridge for an hour is much better.


POSTED ON
16 Feb 2017
WOULD YOU LIKE TO ?

Samira
Student Chef
Just a normal girl doing wonders in the kitchen with my mom!
---

South Africa
Joined 5 years ago
COMMENTS
You May Also Like
Suggest Recipes