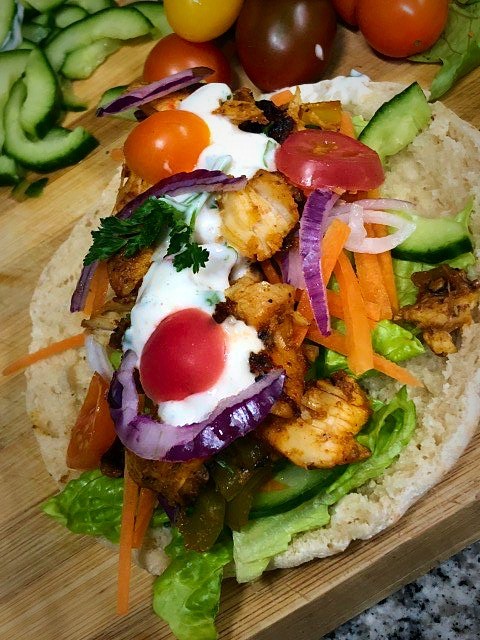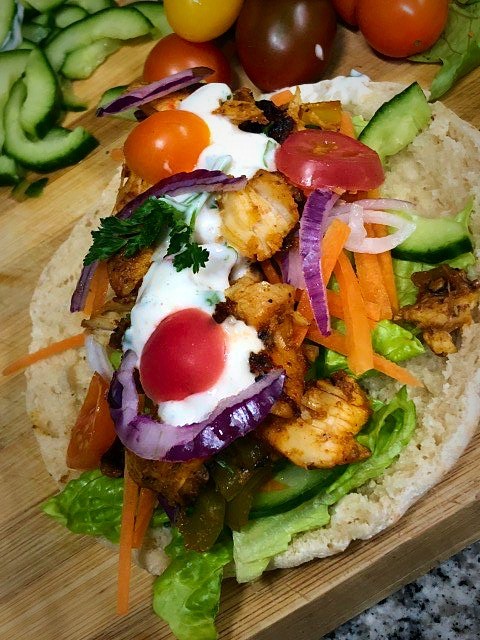 43
favs
2
coms
3.2K
views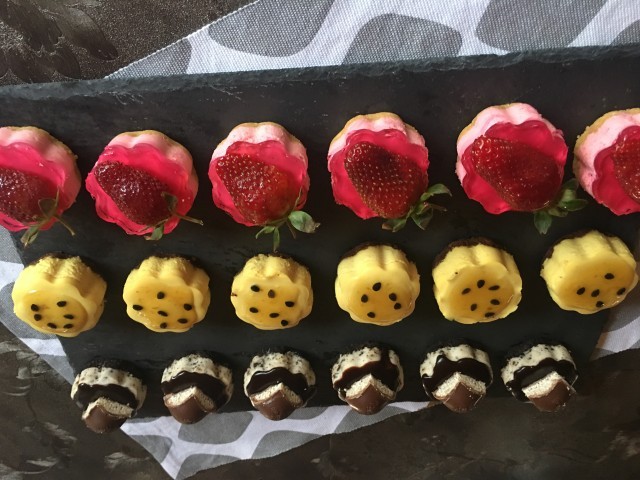 Mubina
MASTER CHEF
316
1.1M
282
Three lovely kids 👶🏻👲🏻👩🏻wonderful husband 💑 foodie n kitchen obsessed 🌺Instagram- @mubina_18 ...
Moroccan Style Chicken Pita Wrap
By Mubina
- MASTER CHEF
RECIPE
Moroccan style chicken pita wrap Recipe & made by :- @mubina_18 Pic:- @mubina_18
3-4 chicken breasts,cut into cubes¼ cup olive oil2 tablespoon lemon juice3 garlic cloves,crushed or 1 teaspoon garlic powder 1 tablespoon honey 1 teaspoon each: ground cumin, ground cinnamon, ground coriander, paprika½ teaspoon ginger powder and freshly ground black pepper1 tablespoon @robortsonsspice Moroccan spices1 teaspoon zesty lemon & herbs ½ teaspoon chili garlic spices. In a mixing bowl, whisk together the olive oil, lemon juice, garlic,honey & all other spices. Pour over the chicken cubes and toss to coat. Cover and refrigerate for 30-45 minutes. Now take a nonstick pan. Add Marinated chicken. Cover and cook on medium to slow flame for 10-15 minutes. Then add chopped red,green & yellow peppers. Cook on high flame. Keep stirring. Lastly add chopped parsley.
For Garlic Feta Sauce:4-5 tablespoon Greek yogurt1 tablespoon olive oil1 tablespoon fresh lemon juice2 tablespoon mayo1 tablespoon garlic sauce 1 clove Garlic chopped 1 tablespoon fresh mint, chopped1 teaspoon parsley chopped salt and black pepper¼ disc Feta cheese finally Crumbed Mix all above ingredients together. and refrigerate until ready to serve.
For serving:pitas, warmedLettuceCucumber slicesTomato slicesCarrots Red onion sliced
Serve chicken folded into a pita with a little lettuce, cucumber,tomato,carrot & red onion. topped with a drizzle of the Sauce. Serve warm.enjoy😊
Note:- Cubed lamb or beef can be substituted for the chicken.Other veges can be substituted.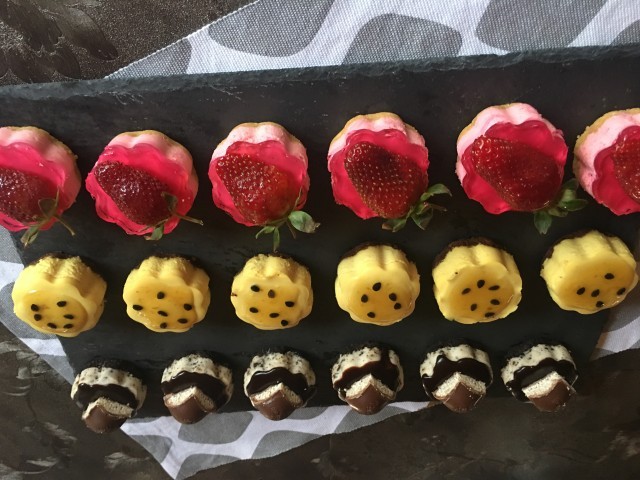 Mubina
MASTER CHEF
316
1.1M
282
Three lovely kids 👶🏻👲🏻👩🏻wonderful husband 💑 foodie n kitchen obsessed 🌺Instagram- @mubina_18 ...
Comments
Ordered By Newest
---
---
Suggest Recipes
You May Like
Moroccan Style Chicken Pita Wrap is part of the
Salads, Healthy, Light Meals
recipes category
TAGS
chicken
halaal
moroccan
mubina
pita
recipe
style
wrap