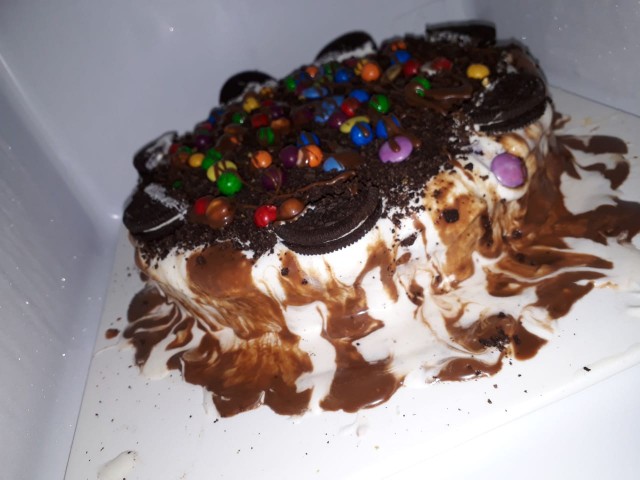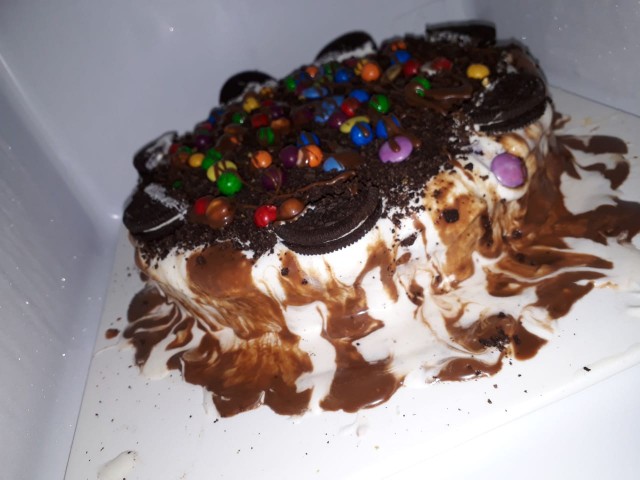 INGREDIENTS
CAKE1 cup unsalted butter, room temperature, plus more for pan2 cups flour , plus more for pan1 cup sugar4 eggs2 teaspoons vanilla essence ½ teaspoon salt
TOPPING 2 litre Vanilla Ice cream softened but not melted 1 box Astros1 box Oreos1 crunchie1 box Smarties½ Slab Cadbury chocolate¼ cup melted Nutella
METHOD
CAKE1. Preheat oven to 180 degrees. Butter and flour a round cake pan set aside.2. on high speed, beat butter and sugar until light and fluffy. Add eggs one at a time, beating well after each addition; add vanilla and salt. With mixer on low, gradually add flour, beating just until combined (do not overmix).3. Bake until a toothpick inserted in center of cake comes out clean, about 1 hour (tent with aluminum foil if browning too quickly). Let cool in pan 15 minutes. Invert onto a wire rack, and turn upright to cool completely.Slice in the middle making two layers.
TOPPINGOn the bottom layer spread a good amount of ice cream. Sprinkle crushed crunchie, and half box of Oreos (crush the Oreos), drizzle Nutella. Put the cake and the ice cream in the freezer for 30 minutes.Place the second layer of cake and spread the whole cake with ice cream.Decorate with the rest of the toppings. Place in the freezer again until ready to serve.
INFO & TIPS
Always put the cake in the freezer for a while once it starts to melt.
You can use any other flavor ice creams.
Comments ordered by Newest
---