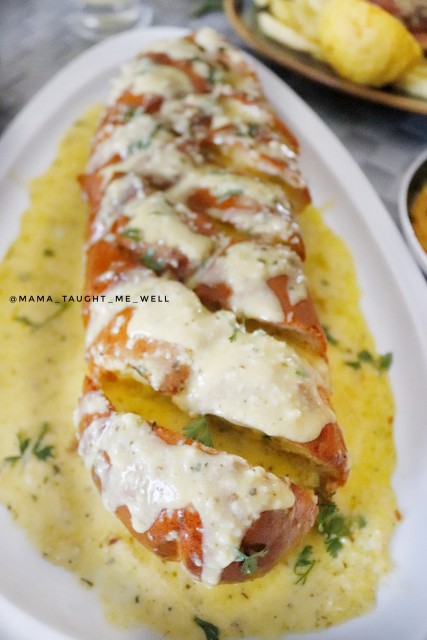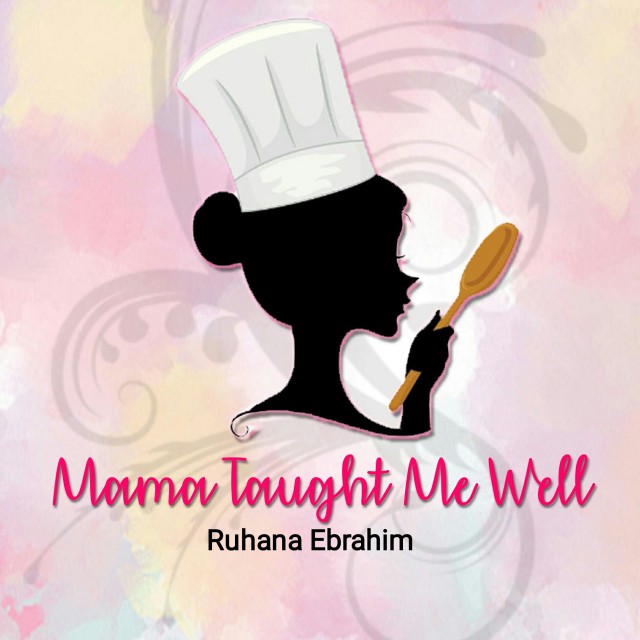 Ruhana Ebrahim
Grand Master
Interior Decorator.
Foodie!
Food styling.
Fusion Cooking.
Recreational baker.
Food Author of "Oh My Cupcakes!"
Mum and wife.
(Another 2 books on the way Insha Allah!)
---

South Africa
Joined 6 years ago
---
@mama_taught_me_well
CREDITS
Pic cred: Ruhana Ebrahim
Rec cred: @mama_taught_me_well


INGREDIENTS
1 store bought large French loaf½ cup grated mozzarella cheese
Garlic butter mixture-125g butter (softened, not melted)4 garlic cloves (peeled)¼ cup fresh flat leaf parsley (reserve little for garnish)¼ cup fresh basil¼ teaspoon Robertson's dried oregano¼ teaspoon salt¼ teaspoon white pepper1 tablespoon lemon juice
Sauce-125ml Clover fresh cream4 tablespoon butter2 tablespoon flour½ teaspoon ground garlic¼ teaspoon Roberson's dried mixed herbs¼ teaspoon salt
METHOD
1. Grind garlic, parsley, basil, oregano, chives, salt, pepper & lemon juice. 2. Fold into softened butter. 3. Spoon butter onto a piece of plastic wrap and roll into a sausage.4. Place in freezer for few minutes to firm up, but not become frozen. (These 4 steps can be skipped if using store bought garlic butter).
5. Preheat oven to 180degC.6. Cut French loaf in diagonal slices, 2 fingers thick, but only cutting ¾ way through, do not cut all the way to the bottom.7. Remove butter once firmed a little.8. Spread butter on the insides of cuts in the loaf.9. Then sprinkle cheese in between the cuts of the loaf.10. Smooth on some garlic herb butter on the top of loaves.11. When done, wrap loaf in foil.12. Leave loaf in freezer whilst oven preheats.13. When oven is ready, place on an oven tray, and bake for 15min or until butter & cheese have melted.14. Remove foil & bake till the top becomes golden & slightly crispy.
15. Make the sauce by melting butter in a saucepan.16. Fry garlic for a few seconds.17. Add flour and whisk together, braising for a minute.18. Add in fresh cream, salt and dried herbs and whisk till smooth.19. Bring to a boil and simmer whilst whisking till thickened into a pouring consistency sauce.20. Pour the sauce over the garlic loaf and and garnish with chopped parsley.
POSTED ON
29 Jun 2020
WOULD YOU LIKE TO ?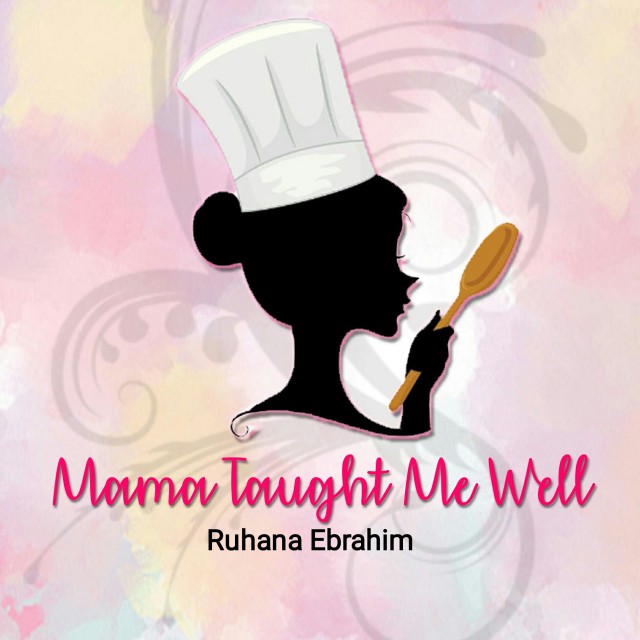 Ruhana Ebrahim
Grand Master
Interior Decorator.
Foodie!
Food styling.
Fusion Cooking.
Recreational baker.
Food Author of "Oh My Cupcakes!"
Mum and wife.
(Another 2 books on the way Insha Allah!)
---

South Africa
Joined 6 years ago
---
@mama_taught_me_well
COMMENTS
You May Also Like
Suggest Recipes