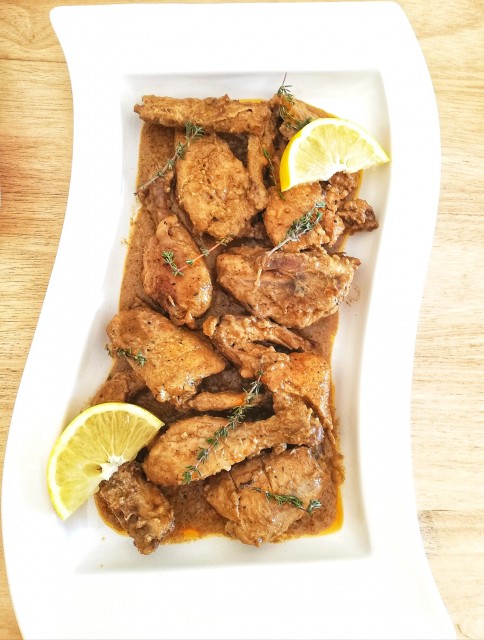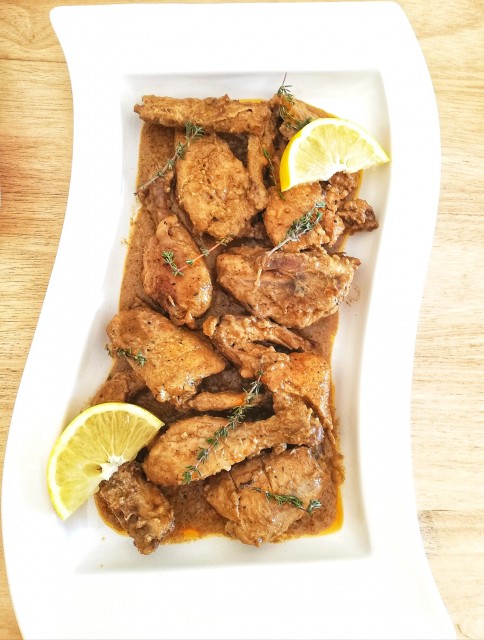 34
favs
2
coms
2.2K
views @saadia_b_
SOUS CHEF
40
75.3K
68

Creative expression, real, soul-full content...
Salt And Pepper Chicken With Extra Sauce
By @saadia_b_
- SOUS CHEF
CREDITS
INGREDIENTS
1 chicken (cut into pieces of your choice) 1 tablespoon chicken spice1 tablespoon BBQ spice1 teaspoon lemon pepper6 tablespoon mayo(I used 4 tablespoon smoked paprika mayo and 2 tablespoon ultra creamy mayo. You may use 6 tablespoon of an ultra creamy mayo) ½ to 1 teaspoon fine salt1 tablespoon garlic4 tablespoon lemon juice Butter or oil to cook1 teaspoon white pepper1 level teaspoon fresh black pepper grounds½ onion4 - 6 fresh thyme sprigs1 - 2 teaspoon ground greenchilli (optional, for heat)
METHOD
Combine all the ingredients for the marinade except the garlic and Thyme.Blitz in a blender until smooth. Marinate the chicken in all the above, except the thyme and garlic.Marinate for a few hours or overnight. Heat butter/ghee (Clarified butter) in a broad based pot. Add chicken. Braise on medium high for a minute or two. Add half a cup of water and allow to cook on low, medium low (should cook with a subtle bubbling) When the chicken is just about done, braise garlic and thyme in a little butter/ghee (Clarified butter) until pinkish. Add to the pot. Stir through. Cook until the sauce is thick. . P. S. Adjust salt according to the salt content of your brand of spices. You may need more or less. You may add ground chilli if your family prefer a spicier flavour. @saadia_b_
SOUS CHEF
40
75.3K
68

Creative expression, real, soul-full content...
Comments
Ordered By Newest
---
---
Suggest Recipes
You May Like
Salt And Pepper Chicken With Extra Sauce is part of the
Chicken
recipes category