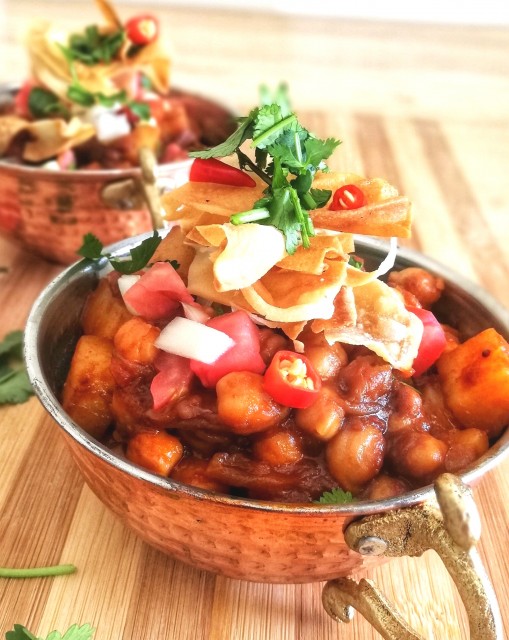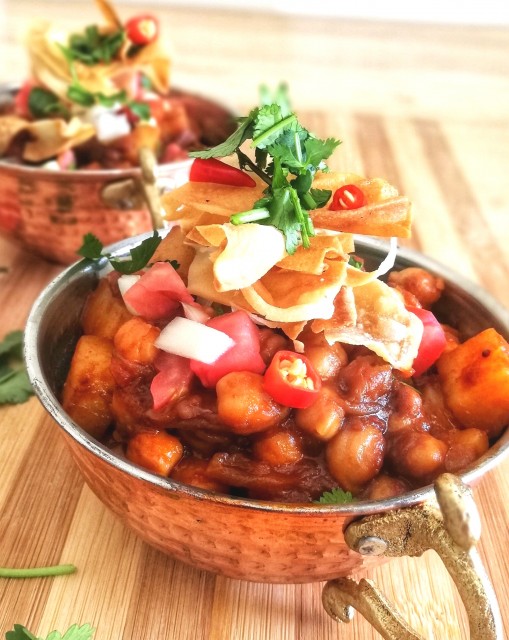 11
favs
0
coms
879
views @saadia_b_
SOUS CHEF
40
67.4K
66

Creative expression, real, soul-full content...
CREDITS
@saadia_b_
Recipe credit : @treetz_by_reez


INGREDIENTS
1 onion finely slicedSplash of oil 2 tomatoes (grated/Liquidised) 1 large potato cubed small1 tin chick peas or 1 cup of boiled chickpeas2 tablespoon tomato sauce 2 tablespoon tomato puree1 teaspoon chilli flakes or powder Sprinkle of sugar Salt to taste ½ teaspoon cumin powder 2 tablespoon of tamarind juice (I used a readymade tamarind concentrate so I used less)
METHOD
Braise onions in a splash of oil until light brown. (I add ⅛ teaspoon of mustard seeds to this) Add spices Add tomatoes and cook. Add potatoes and chick peas. Add water if necessary to cook through the potatoes and tomatoes. Add tamarind and tomato sauce. Cook until the gravy is dryish and thick. . Plate up piping hot 🔥. Top with fried samoosa pur (crispy samoosa pastry strips after its fried) I airfried this with a light spray of oil. I used @bwellfoods canola oil for a healthier alternative. I also topped with some tomato and onion kachoomer (salsa) , seasoned with salt, pepper, chopped chilli and chopped coriander. @saadia_b_
SOUS CHEF
40
67.4K
66

Creative expression, real, soul-full content...
Comments
Ordered By Newest
---
---
Suggest Recipes
You May Like