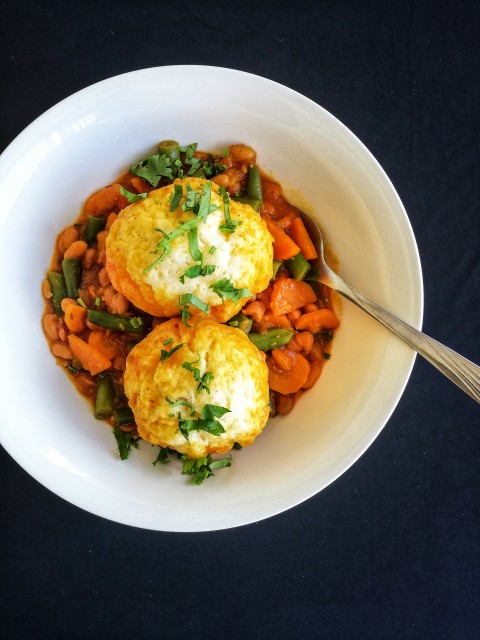 @saadia_b_
Sous Chef
Creative expression, real, soul-full content
---

South Africa
Joined 3 years ago
---
@saadia_b_
CREDITS
INGREDIENTS
Butter/sugar beans and dumplings, with carrot and green beans :Butter beans/sugar beans (1 tin or 1 cup of cooked beans)
*1 large onion*½ teaspoon cumin seeds *⅛ teaspoon Fenugreek seeds *⅛ teaspoon mustard seeds *2 small cinnamon sticks *1 cloveSplash of oil. 2 teaspoon red ginger garlic paste (up to 1 tablespoon) 1 teaspoon coriander powder, 1 teaspoon cumin powder ¼ teaspoon turmericSalt to tasteChilli flakes to taste4 large tomatoes (boiled, peeled and processed)
*¼ of a ¼ pound of butter (⅛ of a brick of butter) *¼ cup of mielie meal*1.5 cups of flour *1 small egg (optional) *pinch of salt *2.5 teaspoon baking powder *equal parts water and milk, slightly warmed.
METHOD
✳️Prepare you beans until tender if you require boiling. ✳️Prepare your tomato gravy in a broad based pot :Braise until the onions, with whole spices until onions are light brown. Add your wet and dry spices :Add in tomatoes and gently simmer until the water has burned out. ✳️Add the butter/sugar beans with some water and gently simmer. ✳️Seperately steam 2 medium carrots, sliced, and an equal amount of green beans (approx 1 cup) , with lightly salted water, until tender but crunchy. ✳️Add to the main pot✳️Prepare your dumplings dough :*rub the butter into your flour, mielie meal, salt, baking powder until it resembles bread crumbs. *add egg (optional) *carefully add in the water, milk mixture until a dough has formed. (aprrox just over ½ cup) *dough can be slightly sticky or smooth(must be a soft, formed dough)
✳️Add some water to make way for the dumplings (this is where the broad based pot comes in) ✳️Gently add them, close the lid, reduce heat to medium, and allow to steam for 10 to 15 minutes. (do not open the lid during this time) ✳️Garnish with chopped coriander/ cilantro /dhania (coriander) and serve piping hot, pot to plate.
For a fluffy dumpling, do not immerse into your stew/curry and serve within 1 hour. If you prefer it denser, soak it in 🙂How do you prefer it? I love the idea of a fluffy dumpling. It almost serves the purpose of a freshly Steamed bread, served ontop of a delicious beans and veg stew.
POSTED ON
01 Sep 2020
WOULD YOU LIKE TO ?

@saadia_b_
Sous Chef
Creative expression, real, soul-full content
---

South Africa
Joined 3 years ago
---
@saadia_b_
COMMENTS
You May Also Like
Suggest Recipes