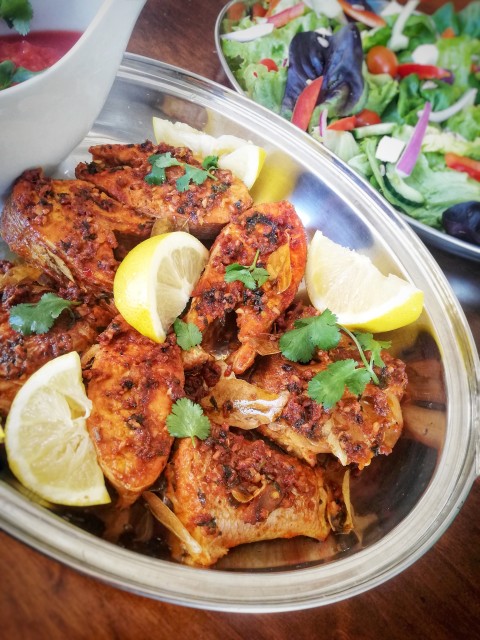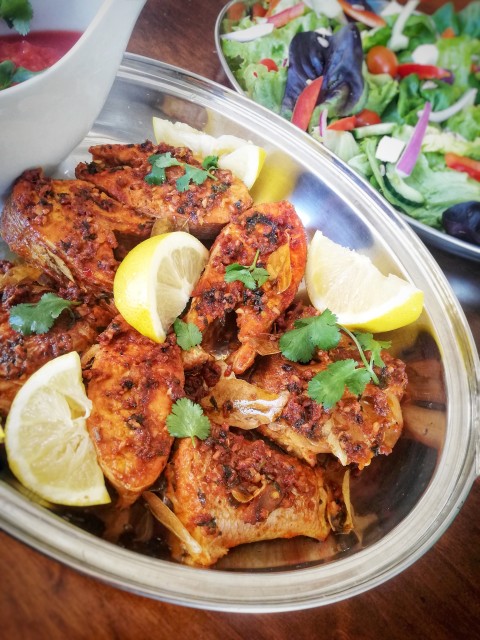 16
favs
0
coms
1.2K
views @saadia_b_
SOUS CHEF
40
76.4K
69

Creative expression, real, soul-full content...
INGREDIENTS
For 1kg of fish(Red fish, Kabeljou, yellowtail, silvers, hake or kingklip too. Have it cut with the bone in the centre)P. S I used 1kg of silvers, weighed with head and tail.
Marinade :¼ cup lemon juice (slightly less if your prefer) 2 tablespoon crushed garlic1 - 2 teaspoon red ginger garlic paste (adjust to your heat preference) 1 - 2 red chilli powder (adjust to your heat preference) 1 heaped teaspoon coriander powder (dhana)1 heaped teaspoon cumin powder (Jeeru (Cumin))¼ teaspoon tumeric⅛ teaspoon mustard powderSalt to tasteA small handful of chopped coriander2 sprigs of curry leaves3 tablespoon of olive oil /canola oil1 green chilli sliced (optional for heat)
For your frying : ⅛ teaspoon mustard seeds ⅛ teaspoon fenugreek seeds (Methi (Fenugreek)) A liberal grease on your non stick pan of canola/olive oil. (not a lot of oil at all. Just to surface your pan)
METHOD
Marinate your fish. Heat your oil in a non stick pan, with mustard seeds and Methi (Fenugreek) seeds. Add your fish, reduce heat to medium low to cook and water out. Increase heat once your fish seems almost done. Turn once the oil surface and all the water has evaporated. Turn gently to prevent your fish from breaking. Brown on the other end. Process does not take too long, 10 minutes on average. . Garnish with lemon slices, coriander and drizzle fresh lemon juice over before serving. 🍋 . Serve with a side of chips, a fresh 🥗 salad, tomato chutney and mielie roti @saadia_b_
SOUS CHEF
40
76.4K
69

Creative expression, real, soul-full content...
Comments
Ordered By Newest
---
---
Suggest Recipes
You May Like
Masala Fish is part of the
Seafood
recipes category