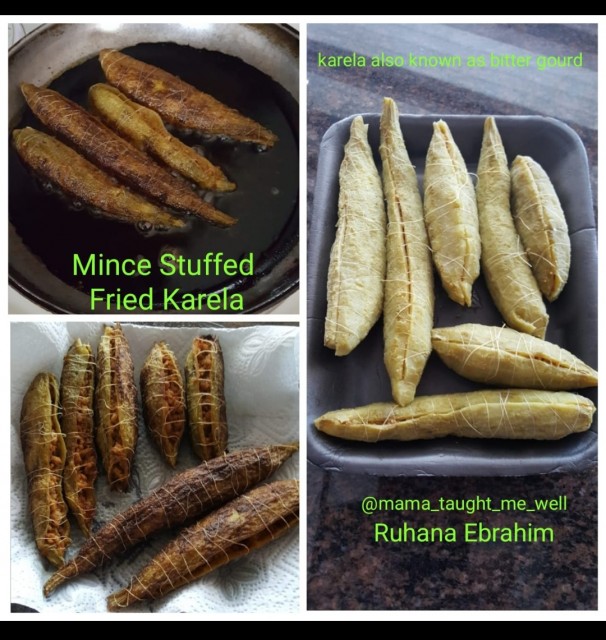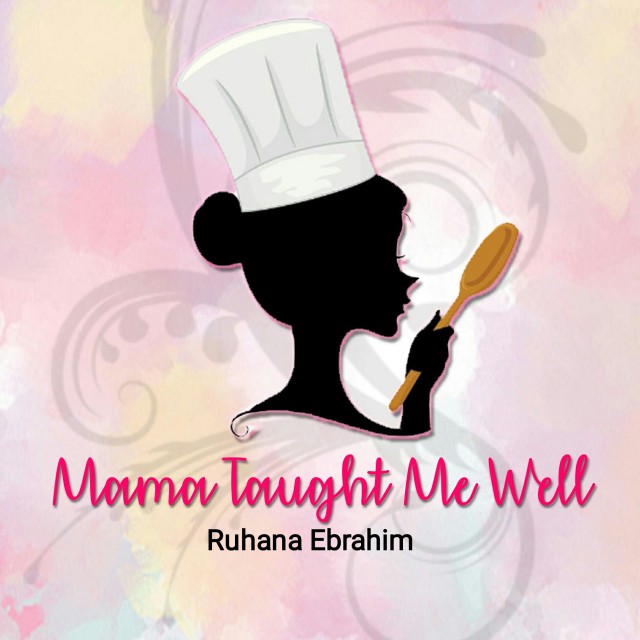 Ruhana Ebrahim
Grand Master
Interior Decorator.
Foodie!
Food styling.
Fusion Cooking.
Recreational baker.
Food Author of "Oh My Cupcakes!"
Mum and wife.
(Another 2 books on the way Insha Allah!)
---

South Africa
Joined 5 years ago
---
@mama_taught_me_well
CREDITS
Pic & Rec cred: @mama_taught_me_well
Ruhana Ebrahim


INGREDIENTS
12 medium sized karela (bitter gourds)Good pinch saltGood pinch arad (Turmeric) (turmeric) powder
Mince-1 small onion (finely sliced)2 tablespoon oil1 stick taj (cinnamon)1 elachie (cardamom) pod¼ teaspoon salt (or more to taste)¼ teaspoon pepper¼ teaspoon chilli powderPinch arad (Turmeric) (turmeric) powder½ teaspoon dhana jeeroo (coriander cumin) powder¼ teaspoon mustard powder1 teaspoon brown vinegar (optional)1 teaspoon ground green chillies250g beef/mutton mince
Also needed-Cotton to tieOil for frying
METHOD
Mince-1. Cook the mince first, by heating oil in a pot, adding onion, taj & cardamom.2. Saute till golden, then add in chillies, vinegar and spices and braise till fragrant.3. Add in washed and drained mince and cook till no liquid remains. 4. Remove taj & elachie.5. May add a little chopped dhania (coriander) (coriander) if you wish.
karela (bitter gourds)-1. Peel the karela (bitter gourds).2. Boil till the flesh is just pliable with salt and arad (Turmeric).3. Remove from water, and whilst warm, slit open longwards, without cutting the ends open, creating a pocket.4. Remove seeds and then give a rinse.5. Stuff the cooked mince into the karela (bitter gourds) pockets, but do not fill too much or it will burst when frying.6. Gently push the pocket closed and tie cotton/ string around, firm but not too tight, to hold it closed.7. Heat shallow oil in a frying pan.8. Place karela (bitter gourds) in and fry till crispy.9. Cut off the cotton.10. Serve immediately whilst crispy, as is or with a red chutney. #mamataughtmewellrecipes
INFO & TIPS
Mince Stuffed Fried KARELA
(A.k.a bitter gourd)

Note:
a) Traditionally the vegetarian option is to grind the karela seeds, spice it and stuff it back into the karela. If you do not enjoy the bitterness of the veg, I suggest do not do this method.

b) I also cook karela in two other ways. Sliced with scrambed masala egg or sliced with mince and serve with bread/roti.
POSTED ON
10 Feb 2021
WOULD YOU LIKE TO ?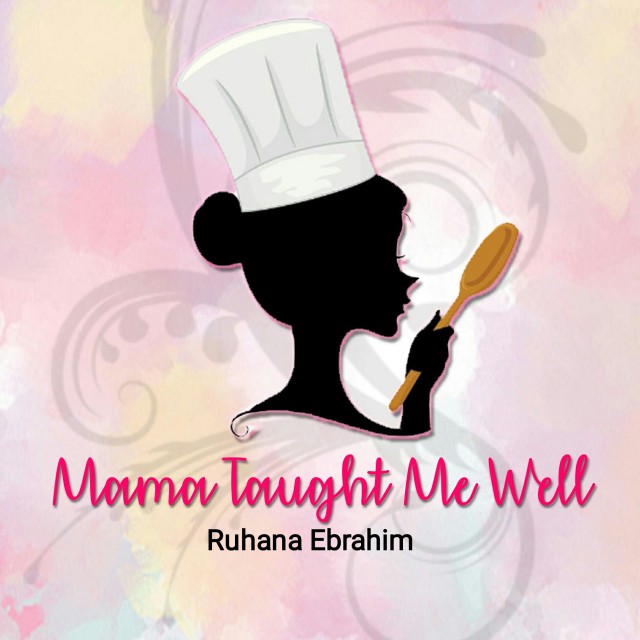 Ruhana Ebrahim
Grand Master
Interior Decorator.
Foodie!
Food styling.
Fusion Cooking.
Recreational baker.
Food Author of "Oh My Cupcakes!"
Mum and wife.
(Another 2 books on the way Insha Allah!)
---

South Africa
Joined 5 years ago
---
@mama_taught_me_well
COMMENTS
You May Also Like
Suggest Recipes