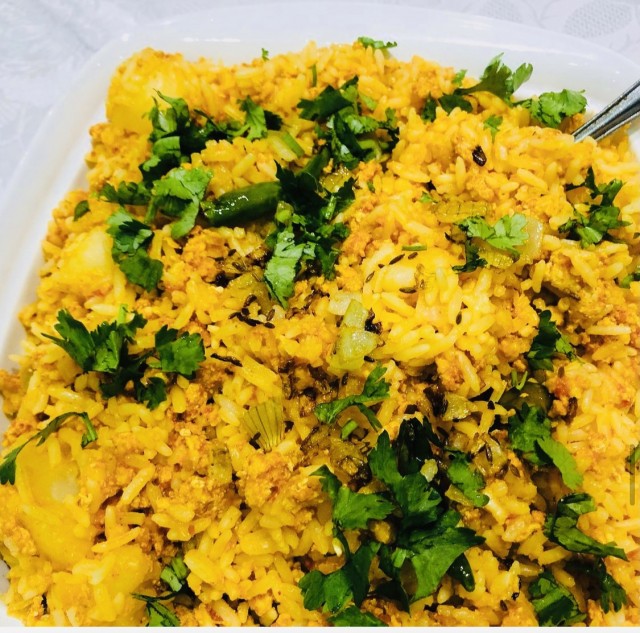 Feroza Joossub Asmall
Kitchen Hand

South Africa
Joined 6 years ago
---
@feroza_joossub_asmall
CREDITS
INGREDIENTS
700grams mince (I used chicken)1 onion chopped2 medium tomatoes liquidised 3 chillies slit3 tablespoon ghee (Clarified butter)2 tablespoon oil4 to 5 potatoes quartered and fried1 teaspoon cumin seeds
Put the ghee (Clarified butter), oil, chillies, cumins seeds and onion in the pot.Once the onions become golden, add the mince with the following spices:
1 teaspoon salt (salt to taste)1 teaspoon dhania (coriander) jeera1 teaspoon rough chillies½ teaspoon arad (Turmeric)2 teaspoon kashmiri chilli powder 1 teaspoon ginger garlic (heaped)
METHOD
Let the mince cook. When halfway done, add the tomatoes and fried potatoes. Do not add extra water.Let it cook till water is almost finished - must not dry out (should have a bit of gravy so its nice and rich but not watery).
Rice
Boil 3 cups of rice (I used long grain) with:
Salt
A pinch of tumeric (or a quarter teaspoon tumeric - depending on how strong your tumeric is - you dont want your rice to be bright yellow)
2 cinnamon sticks2 cardamom pods
Boil the rice till just cooked - must be soft but not mushy. Strain and leave aside.
Once both the rice and mince are cooked as per the above, mix the mince into the rice then leave on the stove to steam for an hour to a hour and a half.
Before serving, make a vagaar with onions, chillies and ghee (Clarified butter). Pour over pilau and serve.
INFO & TIPS
Ps you can add green frozen peas, mix veg or just diced carrots to the mince as a variation.
POSTED ON
12 Apr 2021
WOULD YOU LIKE TO ?

Feroza Joossub Asmall
Kitchen Hand

South Africa
Joined 6 years ago
---
@feroza_joossub_asmall
COMMENTS
You May Also Like
Suggest Recipes