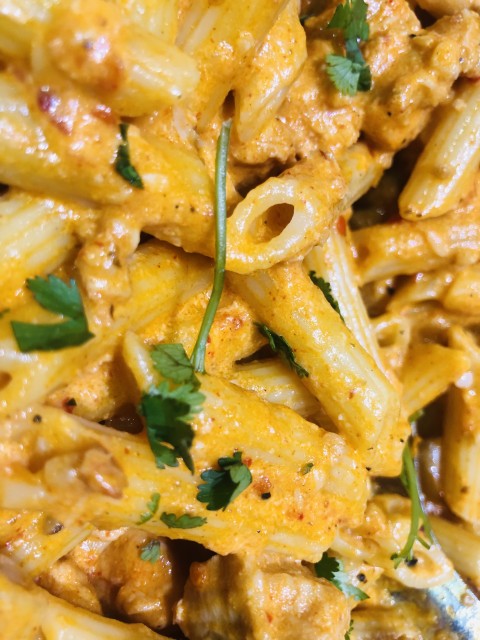 Feroza Joossub Asmall
Kitchen Hand

South Africa
Joined 6 years ago
---
@feroza_joossub_asmall
CREDITS
INGREDIENTS
500g cubed chicken1 tomato liquidised 1 teaspoon salt (salt to taste)1 teaspoon crushed black pepper1 teaspoon heaped rough chilli powder1 teaspoon heaped red chilli powder¼ teaspoon fresh red/green chilli chopped (optional)1 teaspoon ginger garlic2 tablespoon lemon juice2 tablespoon mayonnaise 125ml fresh cream2 tablespoon ghee (Clarified butter)Packet of pasta - I use whatever I have in the cupboard - I used penne in this pic
METHOD
Boil the pasta in salted water and add a 2 tablespoon oil to the water. Once done, strain and leave aside.
In a separate pot, heat the ghee (Clarified butter). Once hot, add the chicken with all the spices, ginger garlic, mayonnaise and lemon juice. Mix well and leave to cook. When the chicken is almost done, add the tomato and extra salt if required. Cook for 5 minutes then add the fresh cream - add more fresh cream if it gets too dry. Once cooked in, mix the chicken into the pasta. Garnish with greens and serve hot.
INFO & TIPS
You can add 1/2 cup of mix veg to the chicken when cooking or 1/2 cup of frozen corn.
Once done, you can top with cheese and put it in the oven to melt just before serving.
POSTED ON
23 Jun 2021
WOULD YOU LIKE TO ?

Feroza Joossub Asmall
Kitchen Hand

South Africa
Joined 6 years ago
---
@feroza_joossub_asmall
COMMENTS
You May Also Like
Suggest Recipes