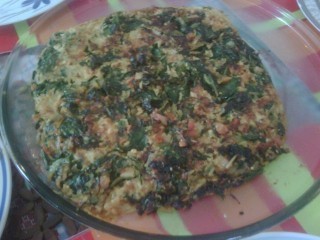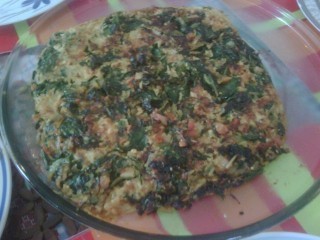 INGREDIENTS
• 1 bunch spinach leaves cleaned, chopped
(baby spinach leaves can also be used)
• 1 tablespoon olive oil
• 1 tablespoon butter
• 1 medium onion, chopped
• 1 teaspoon. crushed garlic,
• 6/8 large eggs
• 4 tablespoon milk (or fresh cream)
• ⅓ cup cheese (grated)
• 1 tomato chopped
• Salt and freshly ground pepper to taste
• 1 teaspoon baking powder.
Feta cheese garnish @ end
Spring onions

METHOD
METHOD
1 Preheat oven to 160°C.
2 Cook spinach in ¼ cup of water in a covered
saucepan until just wilted, a couple minutes.
Drain water and set aside.
3 In a mixing bowl, whisk together eggs, milk,
and grated cheese. Add in chopped tomato, and
sprinkle with salt and pepper & b.powder. Set aside.
4 In an oven-proof, non-stick pan, Sauté onions
in olive oil and butter.(u can add in some
mushrooms,grn,red,yellow pepper as well at this
point)
until translucent, about 4-5 minutes on medium
heat. Add garlic and cook a minute further. Add
cooked spinach.
Add your egg mixture. Swirl pan around to evenly
distribute the mixture. Give it a mix.let cook for
about 5 minutues to firm up(on low heat, we don't want
it to burn)
Once slightly firm, crumble feta on top place in
oven for 10-15 minutues. till golden brown.
Let cool garnish with chopped spring onions and
serve.


INFO / TIPS / CREDITS
you can add in chopped cold meat,cooked shredded chicken, left over cooked mince.
Comments ordered by Newest
---