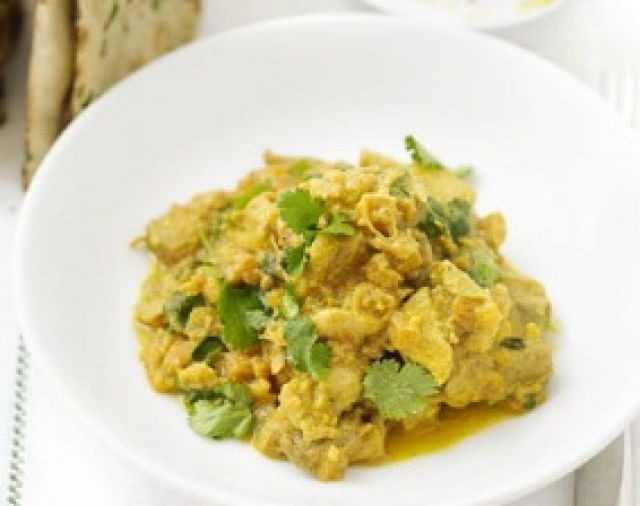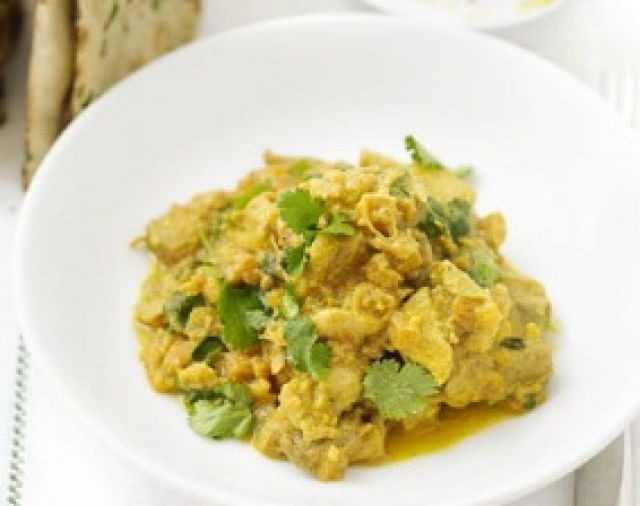 INGREDIENTS
Serves: 4

6 tomatoes
1 onion, finely chopped
4 tablespoon oil
3cm piece root ginger , finely chopped
2 garlic cloves , finely chopped
2-3 green chillies , seeds removed, finely chopped (leave the seeds in for a hotter chilli)
2 teaspoon ground coriander
2 teaspoon ground cumin
1 teaspoon turmeric
1 teaspoon garam masala
8 boneless, skinless chicken thighs
2 tablespoon plain yogurt (I add more as needed)
1 lime (or lemon) - optional
a small bunch coriander , leaves chopped
METHOD
1. Skin the tomatoes by making a small nick in the skin of each and putting them in a bowl. Cover with boiling water for 20 seconds and then drain. Once they are cool enough to handle, peel off the skin, halve and squeeze out most of the juice and pips and discard. Chop the flesh roughly.

2. Fry the onion in the oil over a medium heat for about 10 minutes, until it is an even golden brown. Add the ginger, garlic and chilli and stir briefly, add the spices and fry for a couple of minutes or until they start to smell nice and fragrant. Stir again so they don't stick and add some salt and pepper. Add 100ml water and the tomatoes, bring to the boil and simmer for 10 minutes. Add the chicken and stir, put a lid on the pan and cook for 30-40 minutes. Stir occasionally.

3. Stir in the yogurt. Once the sauce is bubbling gently squeeze in the juice from half the lime, taste and squeeze in the remaining half if you need to. Sprinkle with coriander leaves.
INFO & TIPS
Per serving: 363 calories, protein 40.5g, carbohydrate 10.4g, fat 17.9 g, fibre 1.8g, salt 0.48 g
Comments ordered by Newest
---