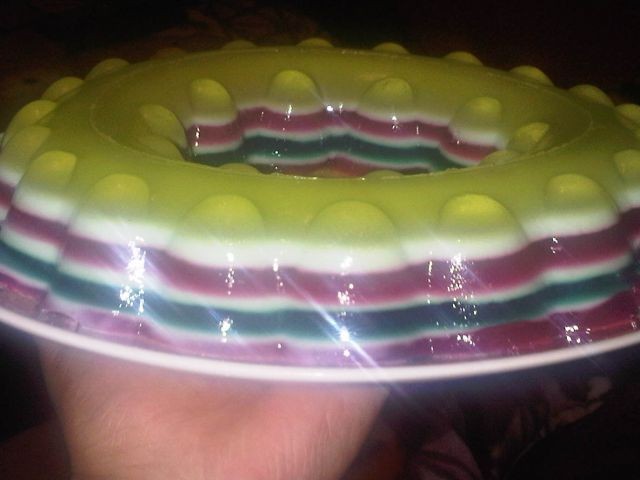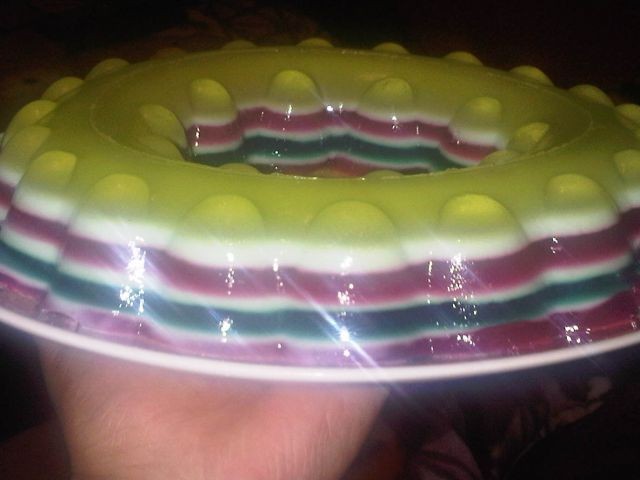 INGREDIENTS
1 packet black current jelly
1 packet lemon/ orange jelly
1 packet rasberry jelly
1 packet lime jelly
4 cups boiling water
½ cup sugar
2 ½ cups cold water
2 full tablespoon gelatine
2 cups milk
2 cups sour cream
2 teaspoon Vanilla Essence

Spray Mould with non stick spray... Important!

Dissolve black current jelly in 1 cup boiling water... Add ½ cup cold water... Stir...
SET

In a small sauce pan sprinkle gelatine over ½ cup cold water. Let stand for 1min.
Stir in milk and sugar.
Stir over medium heat until gelatine and sugar are dissolved.
Remove from heat, whisk in sour cream and v.essence until smooth.
Devide mixture equally into 3 bowls.
Pour 1 part of cream mixture over black current jelly. Chill until set.

Prepare remaining flavoured jellies as directed for black current jelly.
Alternately, layer flavoured jellies with creamy gelatine layers, allowing each layer to set before adding the next.
Refrigerate over night.
Turn onto plate.
METHOD
If using a jelly mould, half the recipie.
Use 2pkt jelly (devide each packet in 2's)
INFO & TIPS
You must wait until each layer sets well...
It requires a lot of patience :)
Comments ordered by Newest
---