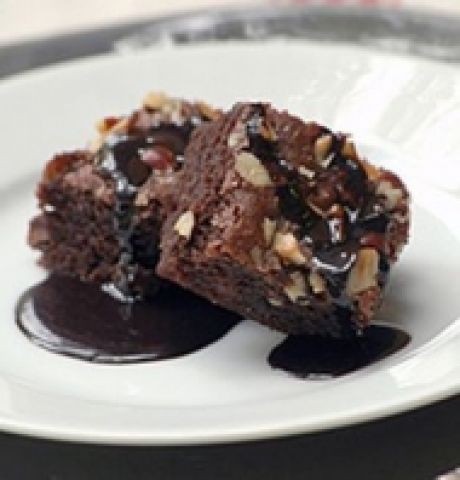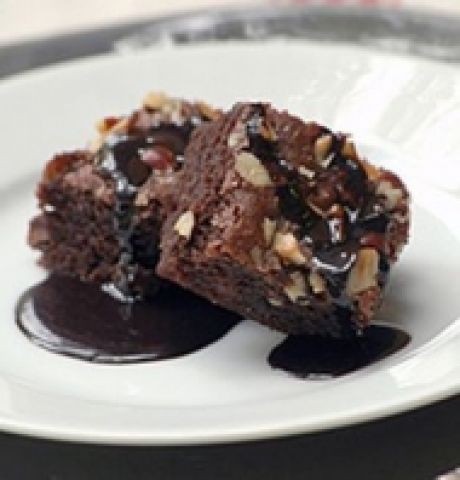 INGREDIENTS
2 extra large eggs at room temperature
½ cup (125 ml) canola oil
¼ cup (60 ml) melted butter
½ cup (125 ml) milk
1 x 550g Ina Paarman Chocolate Brownie Mix
½ cup (50) g hazel nuts, roughly chopped

Chocolate Sauce
½ cup (125 ml) sugar
6 tablespoon (90 ml) cocoa powder
3 tablespoon (45 ml) Milo, Ovaltine or Horlicks
Pinch of salt
¾ cup (180 ml) water
1 tablespoon (15 ml) butter
METHOD
Adjust oven rack to middle position.
Preheat oven to 180C.

Prepare a pan 22cm square tin according to box instructions.
Mix according to package instructions.

Top unbaked mixture, once in the tin, with chopped hazel nuts.
Bake for 30-35 minutes.

Cut into small squares once cooled and serve with Malted Chocolate Sauce.

Chocolate Sauce
Mix sugar, cocoa powder, Milo, salt and water together in a small, heavy-bottomed saucepan. Boil for 2 minutes while stirring continuously. Stir in the butter. Pour into an ovenproof jug. Use hot or cold. (It lasts for 1 month in the refrigerator).

INFO / TIPS / CREDITS
By: Ina Paarman

Comments ordered by Newest
---