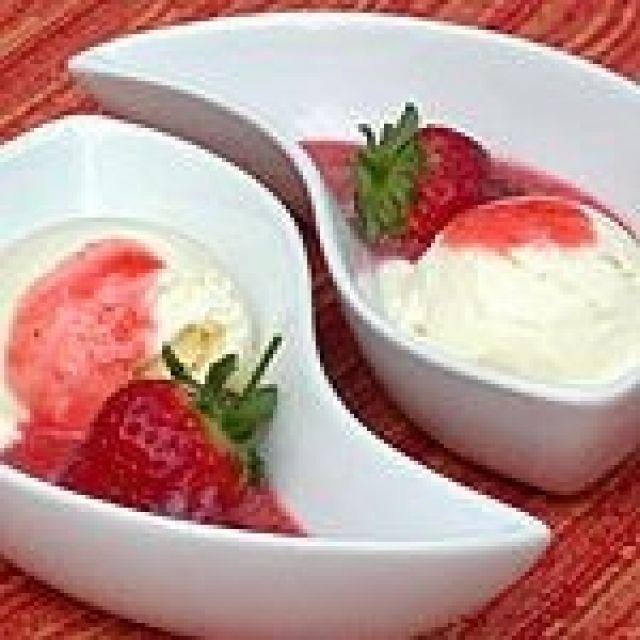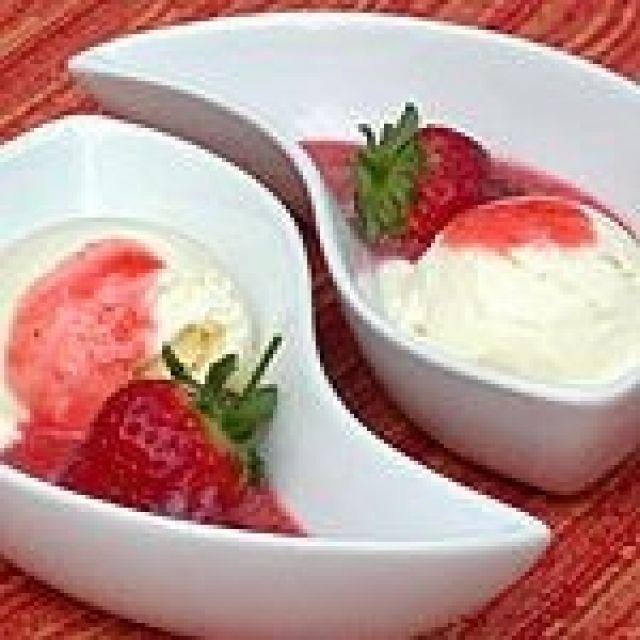 INGREDIENTS
OGHURT ICE CREAM
1 cup (250 ml) whipping cream
1 x 385 g tin sweetened, full cream condensed milk
2 cups (500 ml) Greek yoghurt

MELBA SAUCE
250 g ripe strawberries
1 cup (250 ml) castor sugar
3 tablespoon (45 ml) fresh lemon juice
½ teaspoon (2,5 ml) freshly ground black pepper
a few drops of natural red (cochineal) colour if needed

TO SERVE:
250 g punnet small perfect strawberries
METHOD
YOGHURT ICE CREAM

Whip cream lightly. Add condensed milk in a thin stream while you continue to beat.

When all the condensed milk has been added, fold yoghurt through with a spatula or metal spoon.

Freeze ice cream overnight in an airtight container.

MELBA SAUCE

Rinse fruit in a colander and remove stalks. Purée in a processor or blender, until absolutely smooth. Add sugar, a third at a time, processing between additions.

Add lemon juice, black pepper and colouring, if using. Leave to stand for at least 1 hour to dissolve sugar.

TO SERVE

Rinse the strawberries, keep them whole and leave the green leaves on. Remove the ice cream an hour before serving from the freezer to the fridge to soften a little. Dish ice cream balls for each guest, coat with melba sauce and top with whole strawberries.
INFO & TIPS
Keeps very well for three days in the fridge or three months in the freezer.
By: Ina Paarman
Comments ordered by Newest
---