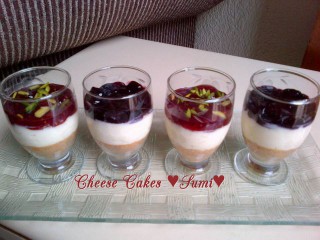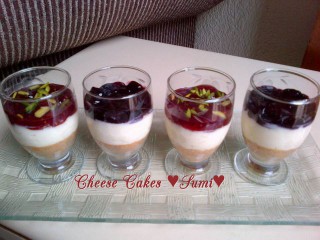 RECIPE
Base:
125g melted butter
1 packet tennis biscuit
Crush the biscuits and mix wit butter
Press into pyrex and allow 2 set 4 a while.

1; FILLING:
2 Cups smooth cottage cheese
1 tin condensed milk
Beat until smooth

2; 1 cup fresh cream
1 teaspoon vanilla essence
1 teaspoon lemon juice
Beat until slightly thick

3; 1⁄2 cup boiling water
2 tablespoon gelatine
Dissolve gelatin in water


Combine mixture 1 and 2, beat until well blended. Add mixture 3 and beat again. Pour onto base and allow 2 set.
Once set then pour prepared jelly

Method
U can by fruit preserve @ any supamarket and top if ҵ don't wana put jelly

Toppings sold @ bakeris is also perfect. That's wat I used in pic 2dy. The blue berry topping bout @ lotus bakery in lenz. Thy got all flavours. Jst Enquire @ your local bakery most of them sell the toppings.

INFO / TIPS / CREDITS
The same recipe. But just illustrated another deco idea.
Comments ordered by Newest
---