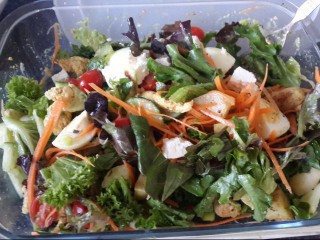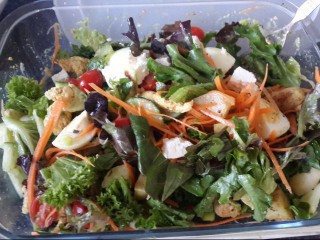 29
favs
0
coms
5.6K
views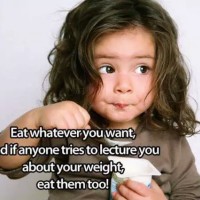 Layla
STUDENT CHEF
2
7.7K
3

Wife & Mother. I love cooking as long as someone else is cleaning up afterwards! :)...
Yummy & Healthy Chicken Salad With A Twist
By Layla
- STUDENT CHEF
INGREDIENTS
For the chicken:
2 free range chicken breasts cut in strips
1 lime
1 teaspoon green masala
1 teaspoon chicken masala
1 teaspoon ginger & garlic
1 ½ teaspoon chicken spice
1 ½ lemon pepper spice
1 teaspoon dhanya & cumin spice
½ teaspoon chilli powder
½ teaspoon tumeric
Salt & ground black pepper to taste
Fresh coriander
A little nandos peri peri mild sauce

Salad:
Mixed lettuce
Cocktail tomatoes cut in half
1 avocado
2/3 spring onion
Cucumber
Feta
2 hard boiled eggs
Julienne carrot

1 baby potato
1 sweet potato (optional to use butternut, I didn't have so I used sweet potato)


METHOD
Mix all spices in the chicken and fry on medium heat in olive or coconut oil. Add a little water till it is cooked well. Add the fresh chopped coriander.

Boil your sweet potato/butternut and potato in salt water till almost done. Pre heat your oven.Drain and put olive oil on a tray and put your cubed veggies on the tray and sprinkle salt, pepper and a little chicken spice. Bake till they are cooked through and crispy.

Throw your lettuce, tomato, avocado, carrot, cucumber and spring onion in a bowl (I used a glass container with a lid as my hubby eats it for lunch) and peel your hard boiled eggs and cut them in half

Put your chicken pieces in with your sweet potato/butternut/potato into the salad.

I used a little greek salad dressing and closed the lid and shook it up.

You may add nuts or sprouts. (Optional)

Healthy and yum!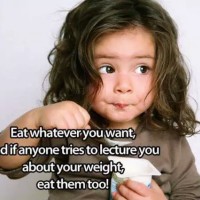 Layla
STUDENT CHEF
2
7.7K
3

Wife & Mother. I love cooking as long as someone else is cleaning up afterwards! :)...
Comments
Ordered By Newest
---
---
Suggest Recipes
You May Like