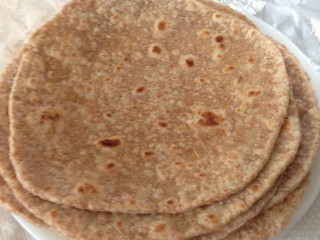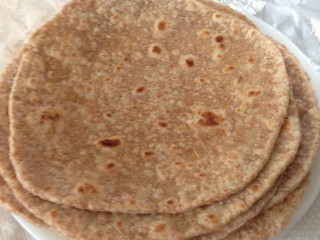 INGREDIENTS
3 cups whole wheat flour
1 teaspoon salt
2 tablespoon olive oil
1 - 1 and ¼ cup water
METHOD
Knead or put in Kenwood (with dough mixer handle - makes life easy!!) all ingredients except water.
use fingers or Kenwood to form crumb like texture.
Add one cup of water and knead until soft dough forms. add ¼ cup water if required, until dough is pliable and soft.

Cover in a damp cloth for 30min.

Form balls (I made +- 6-8) and roll out.

Before serving meal: fry on roti pan / flat pan. When one side is brown, turn over and brush a little ghee (Clarified butter) / butter.
Serve hot hot and ENJOY!!
Comments ordered by Newest
---