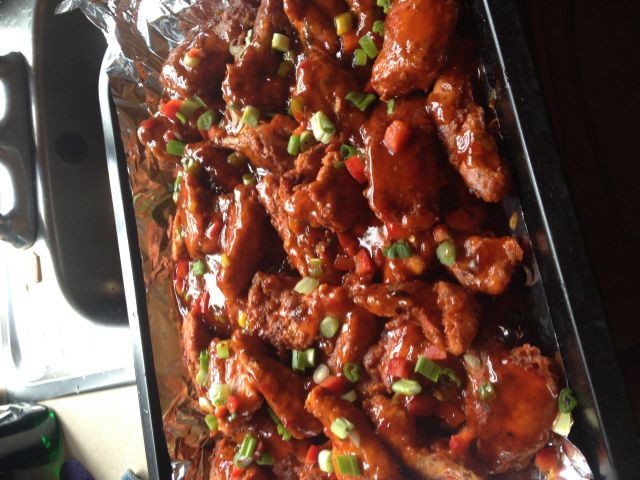 Zaitoon
Student Chef
I like to cook and like to invent my own take on a recipe
---

South Africa
Joined 8 years ago
INGREDIENTS
Chicken drumstcks/breast/wings etc. (10-15 drumstick or 2 chicken breast etc. or a whole chicken)
kentucky powder
1 small bottle of Sweet chilli sauce
1 small Red and 1 green pepper
Spring onions
Sesame seeds
1-2 teaspoon of ginger/garlic paste
Green chilli (optional)
1 teaspoon of cumin seeds
Salt.
METHOD
Wash and drain chicken. If using breast then cut into desired pieces (long thick strips are nice)
Fry the chicken using the Kentucky powder. (Dipping in egg before the flour will make flour stick to chicken better)
Or if you prefer not to FRY then marinade the chicken in some tandoori powder, salt,haldi, ginger/garlic paste,red chilli, green/chilli and some lemon/vinegar. Place in oven to cook and brown both sides.
If you have fried the chicken then Leave in the oven to keep warm.
Just before serving prepare the sauce:
In a pot add 2-3 tablespoon of oilAdd some cumin seeds, Add half of the chopped peppersAdd 1 teaspoon of ginger/garlic paste, Add 1 small bottle of sweet chilli sauce. Mix and let it cook for 3-4 minutes. Taste for salt and add if necessary. If you like it more hot then add some green chilli. Finally add some sliced spring onions and 2 teaspoon of sesame seeds.
Pour the sauce over the chicken and give it a little mix.
Garnish with the rest of the chopped peppers and some spring onions and fresh coriander.
INFO & TIPS
Any type of sweet chilli sauce is suitable.

The amount of sauce needed will depend on the amount of chicken used etc. Therefore adjust ingredients and prepare sauce accordingly.
WOULD YOU LIKE TO ?

Zaitoon
Student Chef
I like to cook and like to invent my own take on a recipe
---

South Africa
Joined 8 years ago
COMMENTS
You May Also Like
Suggest Recipes