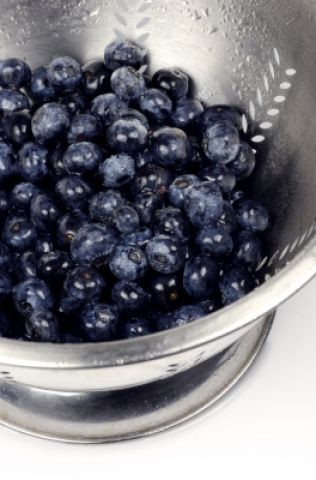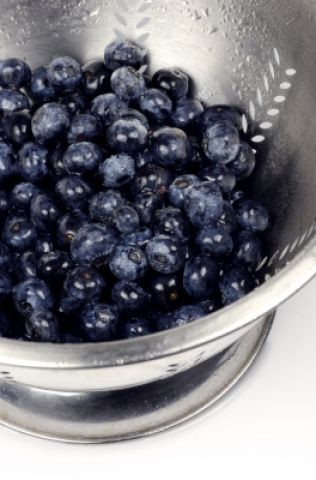 INGREDIENTS
Blueberry Fillings
Fresh Blueberry 280 g
Water 4 tablespoon
Sugar 4 tablespoon
Cornflour 2 tablespoon
Pancake Ingredients
Plain flour 200g
Salt ½ teaspoon
Baking powder 2 teaspoon
Sugar 3 tablespoon
Milk 200 ml
Egg 1
Melt Butter 50 g
METHOD
Blueberry Fillings Method
1. Stir in 2 tablespoons of water into the
cornflour.
2. Put blueberries, water and sugar into a
heated wok. Stir it till the sugar is melted
completely.
3. Transfer it into a bowl. Add in the
cornflour mixture (step 1). Blend the
mixture completely. Leave it aside.

Pancake Batter Methods
1. Sift the flour, salt and baking powder
into a mixing bowl. Add in sugar.
2. Mix milk, egg and melted butter in a jug.
3. Make a well in the dry ingredients (step
1), pour in step 2 mixture slowly. Stir the
mixtures till it blended completely.

Blueberries Pancake
1. Heat the wok in medium heat. Spread some
butter on it.
2. Ladle in the batter, spread it till it
reaches the edge of the wok.
3. Heat the batter for a few minutes till
you see bubbles appears on the it, add about
4 tablespoon of blueberries.
4. When the underside of the pancake turn
golden brown, flip half of it up. Transfer
it to a plate. Repeat the process till the
blueberries and batter is used up.

You may also use bananas or strawberries to
fill the pancakes!
INFO & TIPS
www.hobbycook.com/
Comments ordered by Newest
---